Djibouti opposition ends election boycott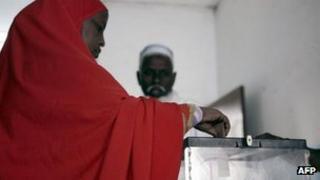 Djibouti opposition parties have joined forces to take part in parliamentary polls, ending a 10-year boycott.
The BBC's Ahmed Said Egeh in Djibouti city said voting was peaceful and had to be extended by one hour because of the large turnout.
President Ismael Omar Guelleh, whose party held all 65 seats in the last parliament, said it was a "milestone for the democratisation" of Djibouti.
The country is home to the biggest French and US military bases in Africa.
Its port is also used by foreign navies patrolling busy shipping lanes in the Gulf of Aden to fight piracy.
Mr Guelleh's family has governed the Red Sea city state, which has a population of about 906,000 people, since independence from France in 1977.
Our reporter said the opposition bloc was able to campaign unhindered and drew large crowds at its rallies where there were calls for a fairer society and more accountability.
It is also the first time in 10 years that the opposition had access to the state-controlled media.
The new coalition decided to end its election boycott after it was agreed in November that 20% of parliamentary seats would be selected by proportional representation.
The elections come two years after President Guelleh was re-elected to serve a controversial third term.