Oscar Pistorius: Variations on a theme of grief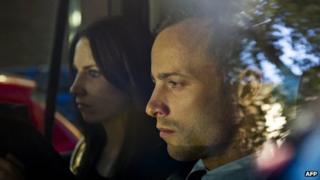 For two hours nobody could really tell which way it was going.
As the tension and the heat inside the overcrowded courtroom built up, Magistrate Desmond Nair made his painstaking way through a summary of the evidence and arguments - with the occasional digression into legal history - without seeming to give prosecution or defence a particular reason for confidence.
It was only in the final few seconds of his ruling - having conceded that Oscar Pistorius was not a flight risk or a danger, but having also raised doubts about his testimony and concluded that prosecution and defence had effectively fought each other to a draw on the central issue of whether the athlete had planned to kill his girlfriend or intended to shoot a burglar - that Mr Pistorius seem to understand that he would soon be a free man.
But there was no relief in the athlete's face. His shoulders shook and he slumped forward on the bench, trying to contain his sobs, as his father reached forward to put a hand on his back.
It seems there can be no good days for Oscar Pistorius right now - just variations on a theme of grief, and anguish - whatever version of the events in that now famous bathroom you choose to believe.
So what now?
For all the drama, twists and revelations of the past week - and the extraordinary level of detail and debate that surfaced - it's important to remember that this was just a bail hearing, a small step on the road towards the murder trial.
All the key forensic and ballistic information has yet to be revealed. Months of painstaking work lie ahead for prosecution and defence.
The prosecution's case may not have been helped by the disastrous performance of the lead detective, Hilton Botha, who squirmed and backtracked under cross-examination.
But in a way, that may prove to be beside the point.
Broken man
It's probably fair to assume that the prosecution team never expected to win the argument against bail. Instead their strategy was to force Oscar Pistorius to show his hand, giving a full account of his version of events in order to counter the premeditated murder charge raised at the bail hearing.
Now the prosecution, with a brand new high-profile detective leading the investigation, has the luxury of months to pick apart the athlete's sworn statement and measure it against the forensic evidence that will soon appear.
Interestingly, the prosecutor and magistrate today both raised, in abstract terms, the possibility of the charges against Oscar Pistorius being reduced from murder to culpable homicide - something which could mean a fine or suspended sentence rather than a long jail term.
We are a long way from that happening, but given the international spotlight now focused on South Africa's police and judicial system, there will be pressure to ensure that this case does not drag on, or do anything to discredit this country.
My own view is that, even by his own account of events, Oscar Pistorius displayed the most extreme recklessness in firing blindly into a closed door, without even the most basic appreciation of who or what might lie behind it.
Perhaps he's being punished enough by losing the woman he told friends he thought might become his wife.
Having sat just over a metre away from him for the last four days in court, I can tell you he is a broken man. But still it is hard to imagine he will walk away from a trial without some form of sanction, and with his life and career changed forever by four shots fired into a toilet door.