Tunisia: Ali Larayedh named new prime minister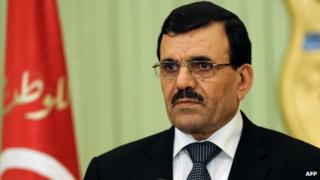 Tunisia's President Moncef Marzouki has confirmed that Interior Minister Ali Larayedh will succeed Hamadi Jebali as the new prime minister.
Mr Larayedh, the chosen candidate of the governing Islamist party, Ennahda, has two weeks to form a new government.
Mr Jebali, also an Ennahda member, quit after the party refused to back his plan for a cabinet of technocrats.
Tunisia has been in turmoil since the killing of opposition leader Chokri Belaid on 6 February.
It was the first political assassination in Tunisia since the Arab Spring uprising in 2011 and provoked mass protests and resignations from Tunisia's coalition government.
'Country cannot wait'
A presidential spokesman said on Friday that the new prime minister would have two weeks to draw up a new administration.
The president, who leads the secular CPR party, had urged Mr Larayedh to do so "as quickly as possible because the country cannot wait any longer", the spokesman added.
In a news conference following his appointment, Mr Larayedh, 57, vowed to form a government for "all Tunisians" and based on the fact that "men and women have equal rights and duties".
The BBC's Sihem Hassaini in the capital, Tunis says there are huge expectations facing the new prime minister as elections are due in six months.
But his appointment has ended the tensions within Ennahda itself and many Tunisians hope it will lead to an end of political deadlock, she says.
On Thursday, Mr Larayedh said several suspects had in arrested in connection with Mr Belaid' assassination, the Associated Press reports.
Supporters of the secular opposition have blamed Ennahda for the killing - an accusation the moderate Islamist party has denied.
Mr Jebali had been trying to defuse tensions by announcing he would form a non-partisan, technocratic government.
But the proposal failed to win Ennahda's approval despite extensive talks, leading to Mr Jebali's resignation on Tuesday - a step he described as "a big disappointment".
Observers said there was worry that the continuing political stand-off and paralysed economy could lead to new mass protests and more violence.
Credit rating agency Standard and Poor's earlier announced it had downgraded Tunisia's rating, citing "a risk that the political situation could deteriorate further amid a worsening fiscal, external and economic outlook".
Mr Larayedh spent several years in jail and was tortured when Tunisia's autocratic leader Zine al-Abidine Ben Ali was in power, our correspondent says.