Oscar Pistorius: Drama of the courtroom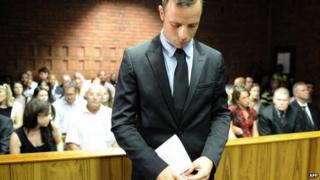 It was another early morning scramble to get accreditation at the bail hearing for South African athlete Oscar Pistorius and - in case you were wondering - no, journalists cannot queue.
With reporters and cameramen racing up and down stairs to secure a precious wristband allowing access - an orderly line outside at Pretoria Magistrate's Court C quickly turned into a shoving match as confused officials struggled to come up with a plan to determine who should get the few seats available inside the red brick courtroom.
You find me now writing this on a seat just in front of the wooden dock where Oscar Pistorius will spend a second day listening to the testimony of prosecution and defence lawyers.
Beside me is a South African journalist colleague, who fainted in the crush outside.
Just in front of us are six chairs for the defence team, led by Barry Roux, who have been busy poring over large white sheets of paper - the floor plans for Mr Pistorius's home. There is a forensic expert in the group.
But the focus today will be on the group sitting ahead and to my right - the prosecution team led by Gerrie Nel.
He is expected to spend much of the day guiding the state's chief investigating officer, Hilton Botha, through his detailed appraisal of what happened at Mr Pistorius's house last Wednesday and Thursday.
On the platform at the front of the courtroom, a single black chair is reserved for Magistrate Desmond Nair.
He has frequently shown his displeasure at the photographers and cameramen who have sometimes disobeyed his order not to take pictures while the court is in session.
He has a crisp, inquisitive manner, but has shown a taste for making the occasional joke.
It is obvious that the lawyers, the majority of them white, know each other well and although there is the occasional flash of condescension most of the exchanges have been cordial.
Deep trauma
Clustered behind the lawyers, some sitting on chairs but many on the red carpeted floor, is a mass of journalists, criminologists and officials from the prosecutor's office, as well as a private sketch artist, Jaco Van Vuuren, who says he knows Mr Pistorius quite well (and who included me in some of his portraits on Tuesday).
Behind the wooden dock, seated on five rows of wooden benches, are the relatives and friends of Oscar Pistorius, and more journalists.
There must be about 80 people in all.
There is an air conditioner at work but it is a sweltering day outside and the atmosphere in the courtroom is a little muggy.
Today, like on Tuesday, Oscar's father Henke, brother Carl and sister Aimee are seated as close as they can be to the Olympic and Paralympic athlete - near enough to reach forward and hold his shoulder during the frequent occasions when he has been overwhelmed by emotion.
A few minutes ago photographers were briefly ushered in and allowed to take pictures of the relatives - some of whom bowed their heads - before being told to leave again before the magistrate or Mr Pistorius arrived and the court comes into session.
Immediately to my right is the wooden door, and behind it the steel barred door, that leads down to the cells. Two police officers stand beside it.
This is only a bail hearing, not a full trial, but the evidence beginning to emerge in this room has been spellbinding for everyone.
But just as striking for me has been the experience of sitting no more than a metre and a half away from Oscar Pistorius - able to hear his breathing patterns, his sobs, muttered prayers, and to see the muscles strain on his neck as he stares forward, with the concentration you would expect from someone braced for the start of an Olympic final.
He is a man in deep trauma and it is hard, regardless of what he did or did not do, not to feel and respond to his anguish.