Ivory Coast ex-President Laurent Gbagbo at ICC court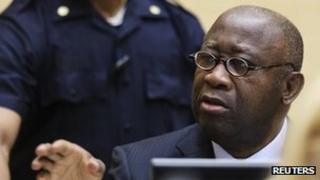 Ivorian ex-President Laurent Gbagbo has appeared at the International Criminal Court to hear whether he could be tried on charges of crimes against humanity.
He is the first former head of state to have appeared at The Hague-based court.
He faces four charges, including murder and rape, in the wake of Ivory Coast's disputed presidential poll in 2010.
Some 3,000 people were killed in violence after Mr Gbagbo refused to accept defeat in the polls. The 67-year-old insists he is innocent.
'Inadmissible' case
Tuesday saw presiding judge Silvia Fernandez de Gurmendi open the confirmation of charges hearing, which will decide whether there is enough evidence to try Mr Gbagbo.
The judge stressed that the hearing would not be ruling whether the former president was guilty or innocent.
Mr Gbagbo's defence lawyers argued that he was already under investigation in his own country and that the authorities there must be the ones to try him - not The Hague court.
They urged the judges to "declare this case inadmissible".
Mr Gbagbo, a former history professor, sat silently in the courtroom listening to the proceedings. He made no comments.
Outside the court, some 300 supporters of Mr Gbagbo held a rally, demanding his immediate release.
'French plot'
The court earlier decided to hold shorter than usual sessions because of Mr Gbagbo's poor health. The hearings are scheduled to last until 28 February.
The charges against him relate to the violence after the 2010 election when he refused to accept defeat by current Ivorian President Alassane Ouattara.
Mr Gbagbo - who was arrested in Ivory Coast in April 2011 and later extradited to The Hague - accuses former colonial power France of plotting to topple him from power in the world's biggest cocoa producer.
The ICC began operating in 2002 to bring to justice those responsible for crimes against humanity and war crimes committed in countries that accept its jurisdiction, or when the UN Security Council refers a case to it.
Mr Gbagbo is the first former head of state to go on trial there, although Slobodan Milosevic of Yugoslavia and Liberia's Charles Taylor were tried by special courts in The Hague.