Oscar Pistorius: South Africa stunned by murder charges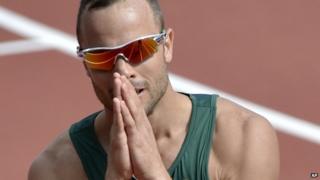 Could it be the end of one of South Africa's most beautiful stories? The nation is in shock and disbelief as news spreads that the state intends to argue that the killing of model Reeva Steenkamp at the home of Olympic athlete Oscar Pistorius was "premeditated murder".
No-one could have predicted such a tragic outcome; South Africans never saw it coming.
More than a day after the story broke, social networking sites are still flooded with messages of condolences for 29-year-old Ms Steenkamp.
But on a much larger scale there has been an overwhelming outpouring of support for the athlete.
As his life seems to be unravelling before the eyes of millions, many in South Africa are rallying behind their "blade runner".
But why do South Africans love him so much?
Mr Pistorius's life story resonates with people of all races, a story of triumph over difficult odds, a story of persistence and perseverance.
South Africans pride themselves on their fighting spirit.
This same spirit was seen when the six-time Paralympic champion fought and won the right to compete at the London Olympics last year, making history as the first double-amputee to compete in the Games.
But now all that success, all he has worked for over the years, hangs in the balance.
The packed courtroom in Pretoria on Friday shows how the story has caused a local and international media frenzy.
The state has brought in one of its most senior prosecutors, Gerrie Nel, the state advocate who prosecuted disgraced former police chief Jackie Selebi.
Inside court Mr Nel said that they would be arguing that it was "pre-meditated murder".
The defence want him to face a lesser charge, possibly culpable homicide.
'Inspiration'
While the case plays out in court, on the streets of nearby Johannesburg, stunned incredulity is the common reaction.
Disbelief at the implication this has for the athlete's future but also at the tragic end of this couple's love story.
Ms Steenkamp, who had been in the prime of her life, was well known in social circles and had graced the covers of a number including men's magazine FHM - but most South Africans would have known her simply as Mr Pistorius's girlfriend.
The two had known each other for a while but apparently started dating in November and frequently posted loving messages about each on social network Twitter and were seen at high profile events arm in arm.
Their relationship seemed perfect, but the shooting has given rise to much speculation.
There are few details about the incident, but police say neighbours have given statements that they heard an altercation prior to the shooting.
Police spokeswoman Denise Buekes told journalists on Thursday that there had been previous incidents involving domestic disturbances at the athlete's resident.
But his supporters refuse to believe any of the stories from the police and media.
But others do not know what to believe - a prevailing sense in many parts of the country.
"For me it's very tragic, I don't know what side of the story is actually true," a male supporter in Johannesburg told the BBC.
"Even if it turns out to be true I don't think I'll be able to believe it."
In the weeks and certainly months ahead many South Africans will be watching the Pistorius case with keen interest.
While some will be praying that he comes out of this unscathed, many are simply hoping for the truth.
They want to know exactly how a young woman was shot dead in her boyfriend's house on what was supposed to be most romantic day of the year - Valentine's Day.