Tunisia President Marzouki's CPR 'to withdraw ministers'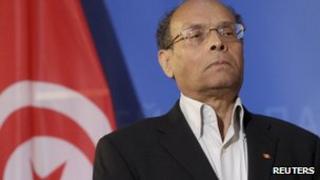 The secular party of Tunisian President Moncef Marzouki says its ministers will leave the Islamist-led government.
A CPR party leader said its demands that two Islamist ministers should be replaced had not been met, and that the pullout would be confirmed on Monday.
The move comes amid a crisis sparked by the killing last week of an opposition leader, which triggered mass protests.
Prime Minister Hamadi Jebali said he wanted to form a government of technocrats, to ease tensions.
However, his own Islamist Ennahda party, which dominates the cabinet, has opposed the plan.
The centre-left Congress for the Republic (CPR) has called for the replacement of the foreign and justice ministers, who it claims are underperforming.
On Sunday party official Samir Ben Amor told Reuters news agency that it would withdraw its three ministers because its demands had been ignored.
Another CPR leader, Chokri Yacoub, told the state-run TAP news agency that the withdrawal would be confirmed during a news conference on Monday.
After Ennahda, the CPR is is the second-largest party in Tunisia's constituent assembly, with 29 of the 214 seats.
The BBC's Wyre Davies, in Tunis, says the planned resignations deepen the political crisis in the country brought on by the assassination of opposition leader Chokri Belaid on Wednesday.
Many blame his Ennahda party for the killing, an allegation the party has denied.
The opposition has called for the government to stand down and four groups - including Mr Belaid's Popular Front - have pulled out of the constituent assembly.
Secular protesters have held mass rallies in recent days. On Friday Mr Belaid's funeral brought as many as a million mourners onto the streets of Tunis.
Mr Jebali has threatened to resign if his efforts to set up a technocratic government by the middle of the week fail.
But other Ennahda leaders oppose his plan, insisting the coalition government should stay.