Senegal landmine blast in Casamance kills two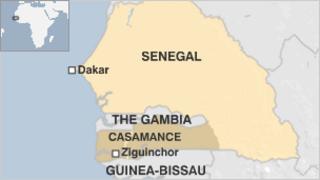 A woman and a child have died after driving over a landmine in Senegal's restive Casamance region.
The pair were in a cart travelling between two villages some 50 miles (80km) north-west of the region's main city, Ziguinchor.
The woman was killed instantly. The child lost both feet and died later.
It is believed the mine was planted on the road by separatists who have been fighting for independence for the region south of The Gambia since 1982.
Thousands have been killed and thousands more displaced in the conflict involving the Casamance Movement for Democratic Forces (MDFC).
According to Senegal's National Centre for Anti-mine Action, 614 people were injured by landlines between 1988 and 2011 and 173 people were killed.
The incident happened on a frequently used road between the villages of Diokatou and Kassal.
The explosion comes a little over a week after suspected MDFC members killed at least two people in an attack on a bank in the town of Kafountine.
In October last year, the Senegalese government began new peace negotiations in Rome with rebel representatives.
In December the MDFC freed eight hostages it had been holding for a year.