Zimbabwe: 'Execution fears' after hangman appointed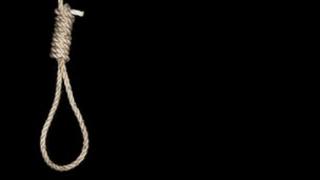 The announcement that Zimbabwe has a new hangman raises fears that executions may resume in the country, Amnesty International has said.
The post of hangman has been vacant since 2005 and Zimbabwe's state-run Herald newspaper says the job is believed to have gone to a Malawian.
The UK-based rights groups said the recruitment was "macabre" and appealed for the death penalty to be abolished.
The prison service head says there are 74 men and two women on death row.
Zimbabwe's last hangman retired in 2005, but the prison service had struggled to find a replacement, with the job repeatedly advertised in the local media.
Prison Service Commissioner Paradzai Zimondi revealed that the position had been filled in mid-2012 while showing journalists around Harare Remand Prison a week ago.
"Indeed, we now have a hangman but these people are still to be executed. In fact, no-one has been executed in the past 12 years," the Herald quoted him as telling journalists.
Amnesty International has been calling for the death penalty to be abolished in Zimbabwe's new constitution, which is due to be put to a referendum in the coming months.
The current draft exempts women and men under 21 or more than 70 from the death penalty.
"This macabre recruitment is disturbing and suggests that Zimbabwe does not want to join the global trend towards abolition of this cruel, inhuman and degrading form of punishment," Noel Kututwa, Amnesty International's southern Africa director, said in a statement.
During the tour of Harare Remand Prison, Commissioner Zimondi said Zimbabwe's 46 prisons currently hold 16,902 inmates, the Herald reports.