Chokri Belaid death: Tense Tunisia to bury leader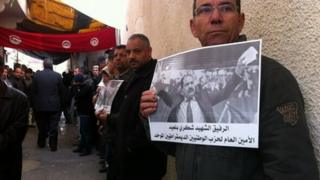 Tunisia is set to bury opposition leader Chokri Belaid amid huge tension surrounding his assassination.
Towns nationwide are braced for another day of violence and the largest trade union has called a general strike.
Unions say the government led by the Islamist Ennahda party is to blame for the killing, an accusation it denies.
PM Hamadi Jebali has tried to defuse tensions by calling for a non-partisan technocratic government but his party has refused to accept this.
On Friday, the streets of the capital Tunis were largely deserted, with many shops shut and most public transport not running.
A number of flights at Tunis-Carthage airport were cancelled.
Tunisian state TV said universities had been ordered to suspend lectures on Saturday and Sunday, while France said it would close its schools in Tunis.
The BBC's Wyre Davies in Tunis says thousands of mourners have already gathered in the suburb where Mr Belaid's body is being brought before the burial.
Hundreds of thousands more are expected to take to the streets of the capital following Friday prayers and ahead of the funeral in the afternoon.
Our correspondent says it is difficult to overestimate the tension on the streets of Tunis, Sfax and other provincial towns - a tension that has been simmering for many months between liberal, secular Tunisians and the Islamist-led government.
He says that people who thought the violence and division had ended as the Arab Spring swept through the country almost exactly two years ago now find themselves protesting on the same streets, fighting with riot police and accusing the Islamist-led government of stealing their revolution.
The death of Mr Belaid, a leading critic of the governing party, has proved to Tunisians what they already feared, says our correspondent, and Friday's funeral is certain to be an emotional and highly charged event.
Policeman killed
Ennahda denies opposition claims that it was behind the killing.
But government critics say that, in recent months, Ennahda has allowed ultra-conservative Muslim groups to impose their will and opinions on what was always regarded as a bastion of Arab secularism.
The first political assassination in Tunisia since the Arab Spring uprising in 2011, Mr Belaid was shot dead at close range on his way to work on Wednesday.
The attacker fled on the back of a motorcycle.
Thousands of people later rallied outside the interior ministry in Tunis, many chanting slogans urging the government to stand down and calling for a new revolution.
In the centre of the capital, a police officer was killed during clashes between police and opposition supporters protesting against Mr Belaid's death.
Also on Thursday, in the town of Gafsa, demonstrators observing a symbolic funeral outside the governor's office clashed with police.
Protesters threw petrol bombs and police responded with tear gas.
Among the protesters were lawyers and judges who have launched a two-day strike in response to the killing.
One policeman was said to be in a coma on Friday after being dragged from his car and beaten in Gafsa, Agence France-Presse news agency reported.
In Sfax, crowds ransacked a number of shops on Thursday.
Earlier, four opposition groups - including Mr Belaid's Popular Front - announced that they were pulling out of the country's constituent assembly in protest.
Mr Belaid was a respected human rights lawyer, and a left-wing secular opponent of the government which took power after the overthrow of long-serving ruler Zine el-Abidine Ben Ali.
Current President Moncef Marzouki said the assassination should not affect Tunisia's revolution, cutting short a visit to France and cancelling a trip to Egypt to return home to deal with the crisis.