Viewpoint: Ennahda's 'double-dealing'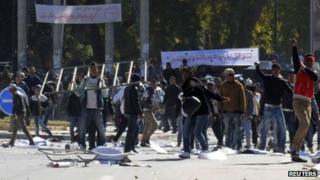 The assassination of Tunisian politician Chokri Belaid has put the spotlight on tensions that have been simmering in Tunisia for more than a year. Analyst Berny Sebe argues that seldom have the levels of anxiety been so high in what traditionally is a peaceful country.
Two years on from the Arab Spring, Tunisia - its cradle - is in mourning.
The murder of Movement of Democratic Patriots (MPD) leader Chokri Belaid has shaken the country to its roots.
The left-wing lawyer was shot dead as he left his home, in cold blood and at point blank range.
Mr Belaid was a symbol of secularism in a country where religious politics seem to gain ground inexorably every day.
Work in progress
Although the governing Ennahda (Renaissance) party has officially condemned his murder, many accuse the apparently moderate Islamic movement of engaging in double dealing.
They argue that it tacitly tolerates the use of violence as a political tool, adding to the climate of fear.
The clear victors of the general election of October 2011 with slightly less than 40% of the vote, Ennahda secured 89 seats out of the 217 available in the constituent assembly.
It managed to obtain 16 ministerial posts out of 30, including that of prime minister - a prize taken by the party's secretary general Hamadi Jebali.
In fact the party received the highest number of votes in all constituencies, except in Sidi Bouzid where the Tunisian revolution started.
But to make its electoral victory meaningful, and to press its agenda at a time when a new constitution was being written - it is still work in progress - Ennahda had to appear as a respectable political player on the international scene.
It was all too conscious of Western anxieties about radical Islamism, and ready to learn from the failure of the Islamic Salvation Front to seize power in neighbouring Algeria in the early 1990s as a result of its openly radical programme.
Hardline religious interpretations
So Ennahda made deliberate efforts to portray itself, at least for foreign eyes, as a moderate, respectably conservative Islamic party.
In short, observers were invited to see it as a Tunisian version of the Turkish Justice and Development Party of Prime Minister Recep Tayyip Erdogan, which has been in power since 2002.
Such an innocuous image is important for a transitional government facing significant post-revolutionary political and economic problems.
Yet behind this facade of respectability, is the party playing a very different game when it comes to internal politics?
Overwhelmingly in control of the government - both numerically and symbolically with portfolios including the interior, foreign affairs, higher education, justice, and industry ministries - it does not seem to be using all its clout to limit the excesses of groups of radical Islamist militants.
Inspired by singularly hardline religious interpretations from Saudi Arabia, Tunisian Salafis share some of Ennahda's ideological tenets.
The government has been aloof when serious breaches to personal freedom were perpetrated by violent groups in the name of religion.
In June 2012 for example violence at an exhibition of contemporary works at the Tunis Arts Spring clearly exposed these ambiguities.
The government condemned the cycle of violence sparked by works of art which were judged as blasphemous by radical Islamist sympathisers, some of whom issued a list of artists to be killed.
But at the same time the minister of culture lodged a complaint against the organisers of the festival for a breach of religious values.
The activists involved in the attack and physical destruction of some of the artworks who have been brought to justice so far, have been condemned only for breaching the state of emergency, with all other charges dropped.
Political violence
Several assaults or physical threats against leaders and sympathisers of secular movements, especially during rallies, have also remained unpunished.
One of them cost the life of the secular Call for Tunisia Party Secretary Lotfi Naguedh, who was beaten to death in October 2012.
Likewise religious shrines, which are considered unorthodox by Salafis, have been damaged or destroyed by arson attacks around the country.
And, while action has been taken in some cases, other imams preaching violence in their mosques have been left undisturbed.
It has been widely reported that police failed to intervene on several occasions when pro-democracy demonstrators were attacked by Salafi sympathisers.
The absence of a vigorous government reaction to acts of political violence, which have been expanding steadily since Ennahda was voted into power, seems to give covert encouragement to those who seek to impose their views through force rather than democratic dialogue.
By turning a blind eye towards the excesses of Salafism in a society marked by more than six decades of state-inspired secularism, Ennahda seems to be worryingly blurring the line between political Islam and Islamist violence.
Secularists and democrats alike took to the streets immediately after news of Mr Belaid's murder spread.
They intend to fight back vigorously, starting with a call by the UGTT (Tunisia's national and historic trade union) for demonstrations in Tunis on Friday.
More unrest will probably follow, and there will be further calls for the government to face its responsibilities.
Prime Minister Jebali announced that he was ready to reshuffle his government so that it would be "technocratic" rather than political, but he may well be forced to resign, in particular because his very own party has made it known that it was not ready to accept his offer of an apolitical government.
In the meantime, the black Salafi standard is increasingly seen flying in the country, while the red and white official flag of Tunisia has sometimes been forcibly removed by the same zealous activists.
In the country of Hannibal, the road to democracy seems decidedly long and winding.
Berny Sebe is lecturer in colonial and postcolonial studies at the University of Birmingham
Update 26 February 2013: This report has been amended to clarify the make-up of the Tunisian government and the outcome of attacks at the Tunis Arts Spring.