South Africa's Zuma outraged at Anene Booysen gang-rape murder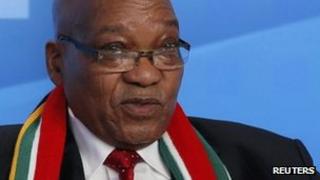 South Africa's President Jacob Zuma has condemned the gang rape and mutilation of a 17-year-old girl who later died.
The attack against Anene Booysen was "shocking, cruel and most inhumane", Mr Zuma said.
Two people have been arrested in connection with the rape and murder on Saturday, reports say.
South Africa has one of the highest rates of sexual violence in the world, with police figures showing that 64,000 cases were reported last year.
The main labour movement, the Congress of South African Trade Unions (Cosatu), said South Africans should stage mass protests against rape.
'Extreme violation'
"When a very similar incident occurred in India recently, there was a massive outbreak of protest and mass demonstrations in the streets," Cosatu spokesman Patrick Craven said, AFP news agency reports.
"We must show the world that South Africans are no less angry at such crimes and make an equally loud statement of disgust, and protest in the streets," he said.
Mr Zuma said the courts should impose the "harshest sentences" for sexual crimes.
"The whole nation is outraged at this extreme violation and destruction of a young human life," he said in a statement.
"It has no place in our country. We must never allow ourselves to get used to these acts of base criminality."
South African media reported that private security guards found the 17-year-old in an industrial area of Bredasdorp, a town some 130km (80 miles) from Cape Town, on Saturday.
Her body was mutilated and she was taken to hospital where she died.
Anene Booysen's 22-year-old ex-boyfriend appeared in court on Tuesday in connection with her rape and murder, and is due to appear again on 12 February, the South African Press Association (Sapa) reports.
A second man, aged 21, was also arrested in Bredasdorp on Wednesday night, it reports.