South African gang-rape murder angers ANC women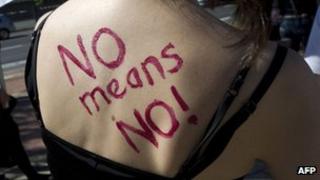 The death of a 17-year-old girl in South Africa after she was gang raped has been condemned by female politicians of the governing party.
The ANC Women's League said it was "disgusted" by the weekend rape and murder in Bredasdorp, a town some 130km (80 miles) from Cape Town.
The girl is reported to have identified one of her attackers before she died and a man is now in custody.
South Africa has one of the highest rates of sexual violence in the world.
The BBC's Peter Biles in Johannesburg says unlike India, where there has been a huge public outcry recently over the issue of rape, sexual offences in South Africa often go largely unnoticed.
South African police figures show about 64,000 sexual offence cases were reported last year, but many attacks still go unreported, he says.
'Lone voices'
"It is difficult to find reason behind the many different acts of gang rape, child rape, rape of the elderly, corrective rape and male rape," Troy Martens of the ANC Women's League said in a statement.
She said the women's league and the few other women's non-governmental organisations could no longer be "the lone voices crying out against rape".
"We cannot let another girl or woman suffer like 17-year-old Anene Booysen," Ms Martens said.
According to South Africa's Die Burger newspaper, security guards found the 17-year-old in an industrial area of Bredasdorp in the Western Cape province on Saturday morning. She was still alive but badly mutilated.
Hospital staff who tried to save the teenager's life were given counselling because of the horrific nature of her injuries, Reuters news agency reports.