Mali conflict: UN 'deeply disturbed' by army abuse claims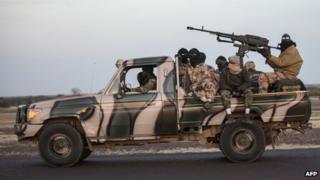 The UN anti-genocide envoy says he is "deeply disturbed" by reports of reprisal attacks by Malian troops as they retake control of the north.
Such widespread and systematic abuses could "constitute atrocity crimes", Adama Dieng said in a statement.
The military is suspected of recruiting and arming proxy militia groups to kill Arabs and ethnic Tuaregs, he added.
Mr Dieng made the comments ahead of a visit to Mali by France's President Francois Hollande.
The French leader arrived in the country on Saturday morning, and received a warm reception from dignitaries and residents in Timbuktu, six days after French soldiers helped recapture the city.
Mob lynching
Reports have suggested that Malian soldiers, drawn largely from the south, are targeting Arab and ethnic Tuareg civilians in frontline towns.
Mr Dieng, the UN's special adviser on the prevention of genocide, said the allegations included summary killings and disappearances in Sevare, Mopti, Niono and other towns close to the areas where fighting was occurring.
There had also been reports of mob lynching and looting of properties belonging to Arab and Tuareg communities, he added.
"While the liberation of towns once under the control of the rebel and extremist groups has brought hope to the populations of northern Mali, I am deeply concerned at the risk of reprisal attacks against ethnic Tuareg and Arab civilians," Mr Dieng said.
"Targeting of ethnic or religious groups in an armed conflict, and if such abuses are carried out in a widespread and systematic way, could constitute atrocity crimes."
Mr Dieng said the Malian army had a responsibility to "protect all populations, irrespective of their race or ethnicity".
He expressed particular concern over reports that the armed forces were recruiting and arming proxy militia groups to carry out attacks against Arab and Tuareg communities.
Mr Dieng welcomed the decision of the International Criminal Court (ICC) to open investigations into the situation in Mali.
Earlier this week, the ICC's chief prosecutor Fatou Bensouda warned Mali over the alleged military abuses.
"All those alleged to be responsible for serious crimes in Mali must be held accountable," he said.
Meanwhile scores of French armoured trucks are heading toward the northern towns of Timbuktu and Gao in what appears to be the start of a new phase in the war against Islamic militants, the BBC's Mark Doyle reports from Mali.
France intervened militarily on 11 January to halt the rebel militants' advance.
The first phase of the intervention was airstrikes, our correspondent says.
Mirage jets dropped guided bombs on buildings across northern Mali that had been occupied by the Islamists since a coup last year. This bombing killed or scattered most of the militants.
But because the Malian army was chased out of the north by the Islamists last year, it also left a power vacuum, our correspondent adds.
This is the vacuum the new French deployment hopes to fill, he says.
Soldiers from an African force are also beginning to deploy, our correspondent reports. But as these allied armies establish their presence, it seems likely some of the Islamists will also regroup, he adds.
French troops are currently securing Kidal, the last major town which was occupied by the militants.
The United Nations refugee agency said 7,100 civilians had fled to neighbouring countries since 10 January to escape fighting.