Egypt's Morsi calls crisis talks as emergency declared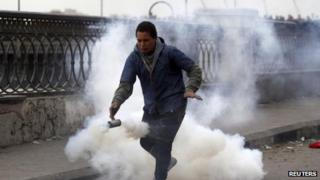 Egyptian President Mohammed Morsi has urged leading opposition figures to attend a "national dialogue" meeting following four days of deadly violence.
Dozens of people have died since a court sentenced 21 people to death over football riots. Anger over Mr Morsi's rule has fuelled unrest elsewhere.
Mr Morsi declared a state of emergency in Port Said, Suez and Ismailia, and a 21:00 to 06:00 curfew from Monday.
The opposition refused to attend the talks unless its conditions were met.
It says the president must address its demands over the recently adopted constitution.
Violence continued on Monday morning, with one man killed by gunfire near Cairo's Tahrir Square.
Also on Monday, the cabinet approved a draft law allowing the army to participate in policing and have the power of arrest.
'Waste of time'
Mr Morsi called the meeting for 18:00 local time (16:00 GMT).
The BBC's Yolande Knell, in Cairo, says Mr Morsi has been hoping that political dialogue can restore national unity amid growing concern about the scale of the latest unrest.
She says he has invited representatives from 11 political forces - Islamists, liberals and leftists - to come to the presidential palace for talks but so far it is unclear who will accept his invitation.
Khaled Dawoud, a spokesman for the main opposition coalition, the National Salvation Front, told Reuters news agency earlier: "[Mr Morsi's] call to implement emergency law was a right move given what is going on, namely thuggery and criminal actions."
However, he said that Mr Morsi was "missing the real problem on the ground, which is his own polices".
Mr Dawoud said the invitation to talks was meaningless unless the opposition's demands for amendments to the constitution were met.
The opposition accuses Mr Morsi of being autocratic and driving through a new constitution that does not protect adequately freedom of expression or religion.
The constitution was approved in a national referendum in December.
Former presidential candidate Hamdeen Sabahi said he would not attend Monday's meeting "unless the bloodshed stops and the people's demands are met".
On his Twitter account, leading Front politician Mohamed ElBaradei wrote: "Unless the president takes responsibility for the bloody events and pledges to form a government of national salvation and a balanced committee to amend the constitution, any dialogue will be a waste of time."
Another anti-Morsi rally is scheduled for Cairo for Monday afternoon.
Mr Morsi announced the state of emergency in the three cities in a national televised address on Sunday evening.
He said he might take further steps "for the sake of Egypt" as it was his "duty" as president.
"I have said I am against any emergency measures but I have said that if I must stop bloodshed and protect the people, then I will act," the president said.
"If I must, I will do much more for the sake of Egypt. This is my duty and I will not hesitate."
The draft law passed by the cabinet on Monday allowed the army "to participate with the police in preserving security and protecting vital establishments", state news agency Mena said. Those arrested by the army would by tried by a civilian court if charged, it added.
Cairo protests
Violence continued overnight, with anti-Morsi protesters in Ismailia clashing with police, who responded with tear gas.
About 30 people were killed in unrest in Port Said on Saturday, with a further three dying at a mass funeral on Sunday.
The protests had begun in Port Said after a court sentenced 21 local people to death over riots that killed 74 people after a football game last February.
The violence began when fans of Port Said side al-Masry attacked visiting supporters from Cairo club al-Ahly.
Fans flooded on to the pitch, attacking Ahly players and fans as the match ended.
Most of the victims died of concussion, cuts and suffocation.
Early on Monday, protesters and riot police also clashed for a fifth consecutive day in Cairo, where the anger focuses more heavily on the constitution and on what Mr Morsi's opponents say is a betrayal of the revolution that overthrew Hosni Mubarak.
Protests last week marking the second anniversary of the uprising left five people dead in Suez.