South Africa court 'halts Zimbabwe helicopter donation'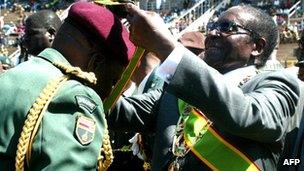 A court in South Africa has temporarily halted a delivery of helicopters to the Zimbabwean military, human rights group AfriForum says.
The group made the urgent request when it heard about the donation of South Africa's retired Alouette fleet.
It said it would be irresponsible to give equipment to a force that was not neutral ahead of this year's elections.
South Africa's defence ministry said the aircraft would not be assembled and would be used only for spare parts.
Elections in Zimbabwe in 2008 were marred by violence and allegations of vote-rigging.
Following regional negotiations led by South Africa, President Robert Mugabe's Zanu-PF party entered into a fractious coalition with the Movement for Democratic Change (MDC).
A recent report by US-based Human Rights Watch said that four years on, the security forces were still politically partisan, remaining loyal to Mr Mugabe and Zanu-PF.
Zimbabwe is also subject to a European Union arms embargo.
AfriForum said High Court judge N B Tuchten had forbidden South Africa's government from exporting any Alouette helicopters or spares for such helicopters to Zimbabwe until a full hearing could be held on 19 February.
Willie Spies, a lawyer for the South African lobby group, told the BBC's Focus on Africa radio programme that he was confident the court order would then be upheld.
"We know that Zimbabwe has got a record of human rights abuses," Mr Spies said.
"We know what happened during 2008 with the second round presidential elections. We know the Zimbabwe Defence Forces are not a neutral defence force committed to defending the Zimbabwean state," he added.
"It's an aggressive force that's been used against the people of Zimbabwe to suppress the opposition."
With such knowledge, it did not make sense to sit by and allow South Africa's to donate the helicopters, Mr Spies said.
South Africa's defence department told the paper the donation was part of an agreement that dated back to 1997.
"We are sending spare parts of the helicopter that has been phased out and the frames," defence department spokesman Siphiwe Dlamini told the AFP news agency.
"These things are not assembled - they are spare parts and frames. There is nothing like a fully-fledged helicopter."
According to AfriForum, the French-manufactured helicopters were used by South Africa's apartheid government during Angola's civil war in the 1970s and 1980s to carry out air-to-ground attacks in support of the rebels.
Last week, Zimbabwe's rival political leaders reached a deal over a new constitution, removing a key obstacle to holding elections.
Related Internet Links
The BBC is not responsible for the content of external sites.