Charles Taylor trial: Investigator guilty of contempt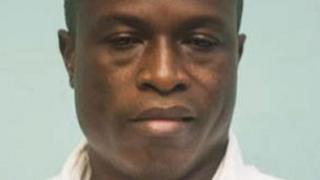 A former defence investigator with the UN-backed Special Court for Sierra Leone has been convicted of interfering with witnesses in the trial of Charles Taylor, Liberia's jailed ex-president.
Prince Taylor was found guilty on five counts of contempt, the court said.
He is accused of attempting to persuade prosecution witnesses to recant their testimony through a former Sierra Leone rebel, Eric Koi Senessie.
Charles Taylor is currently appealing against his sentence at The Hague.
He was sentenced to 50 years in prison last May for war crimes by providing arms and support to the Revolutionary United Front (RUF) rebels in neighbouring Sierra Leone during its bloody 1991-2002 civil war.
Defence lawyers have called the verdict a "miscarriage of justice" and want the conviction to be quashed.
'Heinous crimes'
Prince Taylor was found guilty on four courts of trying to persuade former witnesses to recant their testimony through Senessie, a member of the RUF.
He was also found guilty of "instructing and otherwise persuading Senessie to give false information to the independent counsel appointed by the registrar".
Mr Senessie was convicted by the Special Court last June on eight counts of interference with the same witnesses and sentenced to two years in prison the following month.
He gave evidence against Prince Taylor at his trial.
Prince Taylor was acquitted of four counts of trying to bribe witnesses to alter their testimony. He is due to be sentenced by the Special Court at a later date.
Charles Taylor became the first former head of state to be convicted of war crimes by an international court since the Nuremberg trials after World War II.
He was found guilty on 11 counts of war crimes, relating to atrocities that included rape and murder and described by one of the judges as "some of the most heinous crimes in human history".
In return for so-called blood diamonds, Taylor provided arms and both logistical and moral support to the RUF, prolonging the conflict and the suffering of the people of Sierra Leone, prosecutors said.
Taylor started Liberia's civil war as a warlord in 1989, and was elected president in 1997. He governed for six years before being forced into exile in southern Nigeria. He was arrested in 2006 while trying to flee Nigeria.