Mali's Ansar Dine Islamists 'split and want talks'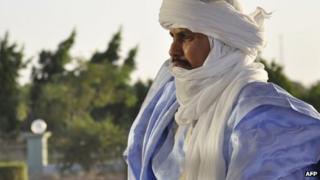 One of the Islamist groups fighting in northern Mali has split and wants dialogue, a statement from the breakaway faction says.
Islamic Movement for Azawad said it was splitting from Ansar Dine, and "rejects all forms of extremism and terrorism".
According to the statement, the group is headed by Alghabass Ag Intalla, an important Ansar Dine leader and influential figure in Kidal.
France sent troops to Mali earlier this month to halt a militant advance.
It said al-Qaeda linked Islamists - some of whom were foreigners - threatened to turn Mali into a "terrorist state".
For the last 10 months, three main Islamist groups have controlled northern Mali, where they have imposed strict Islamic law.
Along with secular Tuareg rebels they took advantage of chaos after a military coup to extend their influence to an area of the Sahara Desert larger than France.
But the Islamists soon took control of the major towns, sidelining the secular rebels.
'Cease hostilities'
The Islamic Movement for Azawad (IMA) statement said its group was made up entirely of Malians, who wanted a peaceful resolution to the crisis.
Azawad is a term used by Tuareg rebels for the northern region of Mali, where they want independence.
IMA said it wanted the "Malian authorities and France to cease hostilities in the zones that we are occupying in the north-eastern regions of Kidal and Menaka to create a climate of peace which will pave the way for an inclusive political" settlement.
Mr Ag Intalla told AP news agency the IMA was linked to neither al-Qaeda in the Islamic Maghreb (AQIM) nor the Movement for Unity and Jihad in West Africa (Mujao), two groups which control large swathes of northern Mali and are led by an Algerian and a Mauritanian respectively.
"We are a group of people from the north of Mali who have a set of grievances that date back at least 50 years [when Mali became independent]," Mr Intalla is quoted as saying.
"We are not terrorists. We are ready to negotiate."
Mr Ag Intalla was a negotiator for Ansar Dine during mediation efforts in Burkina Faso in 2012.
Ansar Dine's influence has mainly been in the north-east and the town of Kidal is an important base for the group, made up of mainly Tuareg fighters.
This week French and Malian troops recaptured the central towns seized in a rebel offensive that sparked France's intervention.
An African force has begun to deploy to Mali to help with international efforts to expel the militant Islamist groups from the north.
Meanwhile, Mali's army has been accused of carrying out a series of summary executions by a Paris-based rights group.
The BBC's Mark Doyle in Mali says the reports that the Malian army, drawn largely from the south, has targeted Arabs and Tuaregs from the north expose a racial aspect to the war which has been hidden by the emphasis on Western troops fighting a war against Islamist insurgents.