Ivory Coast: Hijackers free ITRI fuel tanker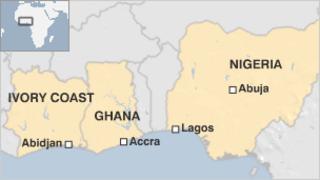 Armed hijackers have freed a fuel tanker seized last week in Ivory Coast after escaping with cargo worth $5m (£3m), its owner Brila Energy has said.
The 16-member Nigerian crew on board the Panamanian-flagged vessel ITRI was released unharmed, it added.
The crew was locked in a dining room while the hijackers siphoned off 5,000 tonnes of the fuel, the company said.
Pirate attacks have sharply increased in recent years off West Africa.
But most of these have taken place off the Nigerian coast, where oil is often stolen to be sold on the black market.
On Monday, Ivorian officials said the ship had been last seen off Ghana's coast after it was seized on 16 January near the port in Ivory Coast's main city, Abidjan.
Nigerian-based Brila Energy chairman Rowaye Jubril told the AP news agency that the hijackers had escaped.
"The hijackers were not arrested. They escaped. The stolen cargo is estimated at about $5m," he is quoted as saying.
Mr Jubril did not say where the ship was freed, AP reports.
The first recorded vessel hijacking off Ivory Coast was in October 2012 when 14 men armed with AK-47 rifles and knives boarded a tanker carrying 30,000 tons of gasoline.
The crew was later released unharmed.