South Sudan defends army dismissals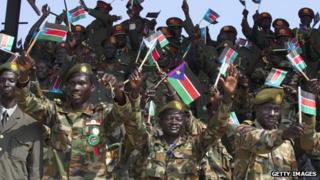 South Sudan has denied to the BBC that the dismissal of more than 30 top army officers has anything to do with a rumour about a coup attempt.
The country's information minister said the changes were been made to bring younger people into top positions.
On Monday, all six deputy chiefs of staff were removed and 29 major generals were dismissed.
It is the biggest shake-up of the military since South Sudan became independent in July 2011.
The BBC's Nyambura Wambugu in the capital, Juba, says nobody knows the exact size of South Sudan's army - with figures ranging from 80,000 to 200,000.
It is made up of disparate units of the Sudan People's Liberation Army (SPLA) which fought in more than 22 years of guerrilla warfare.
Generals have been cited as a hindrance to reforming the army, which requires the decommissioning of soldiers, as they want to preserve their own units, our reporter says.
"We are no longer a liberation army where you don't retire," Information Minister Barnabas Marial Benjamin told the BBC's Focus on Africa radio programme.
Top-ranking officers "have a certain life span" and such changes were necessary for a "young nation trying to transform its army", he said.
The information minister said the 35 officers had been put on a reserve list until their pensions were sorted out.
The move should be seen as a "morale booster", rather than a cause for concern, Mr Benjamin said, dismissing any connection between the reshuffle and recent reports of political instability.
"It was just a rumour... I don't think there was any coup attempt at all - and as we speak today there is nobody who has been arrested or been accused of having tried to stage a coup," he said.
The security concerns for the government came from a few militia groups which had taken up arms since South Sudan seceded from Sudan, he said.