Charles Ble Goude: Ghana extradites Ivory Coast Gbagbo ally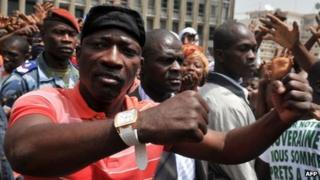 Ivory Coast's former youth minister and ally of former President Laurent Gbagbo, Charles Ble Goude, has been extradited from Ghana, officials say.
They said Mr Ble Goude was handed over to authorities in Ivory Coast, where he was taken into custody.
Mr Ble Goude denies leading pro-Gbagbo militias who attacked foreigners and northerners during the unrest which followed disputed elections in 2010.
He has been in hiding since April 2011, when Mr Gbagbo was arrested.
The former president is now awaiting trial at The Hague on charges of crimes against humanity.
Some 3,000 people lost their lives in the four-month crisis after Mr Gbagbo refused to accept defeat.
Several Gbagbo allies have gone into exile in Ghana and they first reported that Mr Ble Goude had been arrested on Thursday.
Later, the Ivorian government said in a statement that Mr Ble Goude was apprehended "in a joint police operation between Ghana and Ivory Coast".
"He is currently being held in Ivory Coast by Ivorian police authorities in the framework of judicial proceedings already launched against him in Ivory Coast," the statement continued.
Mr Ble Goude's lawyer, Kwame Akufo, told the BBC that Ghana had not followed the proper procedures for extradition.
"You cannot just come into a country, pick up some person and transport him to Ivory Coast," he said.
"His life, his health and security of mind in Ivory Coast is completely at risk."
Last year, Mr Ble Goude told the BBC that, as head of the Young Patriots group, he had only organised rallies and meetings and never run a militia.
"I am not chief of militia - I've never bought weapons, we went to the streets against those who had weapons, we were bare-handed," he said.
He said he was ready to go the International Criminal Court (ICC) in The Hague to clear his name if that is what it took.
Mr Ble Goude was first put under UN sanctions in 2006, accused of inciting attacks against UN personnel.
During the unrest, people from northern Ivory Coast were seen as supporters of Mr Gbagbo's rival, President Alassane Ouattara.