Zimbabwe: Mugabe and Tsvangirai in 'constitution deal'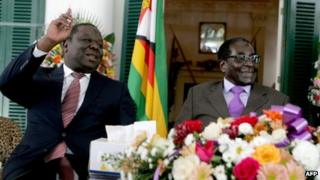 Zimbabwe's rival political leaders say they have reached a deal over a new constitution, removing a key obstacle to holding elections.
The agreement was struck in talks involving President Robert Mugabe and Prime Minister Morgan Tsvangirai.
Mr Tsvangirai said a "long journey" had ended, while Mr Mugabe said he was "glad" that a deal had been reached.
The prime minister had set the adoption of a constitution as a condition for polls due later this year.
Mr Tsvangirai's Movement for Democratic Change (MDC) party and Mr Mugabe's Zanu-PF party entered into a fractious coalition following the 2008 election, which was marred by violence and allegations of vote-rigging.
The BBC's Brian Hungwe in the capital, Harare, says details of the deal have not been made public, but it is understood that the powers of the president have been curbed - a key demand of the MDC.
The 88-year-old Mr Mugabe, who is expected to run for another term in office, was in jovial mood when he addressed a news conference with Mr Tsvangirai at his official residence, our reporter adds.
"We are glad to say that we have come to the conclusion of the [constitution-making] exercise and all parties are agreed - sure there are Ts to be crossed and Is to be dotted," Mr Mugabe said.
Mr Tsvangirai said the constitution would be a "social contract" with Zimbabweans.
"This is not about individuals... I'm sure this will be a living document," he said.
Mr Mugabe said the constitution would be put to a referendum.
'New provincial legislatures'
Once approved by voters, elections would be held, he said.
Mr Mugabe - in power since independence in 1980 - is expected to be challenged by Mr Tsvangirai for the presidency.
A source close to the constitution-making process told our reporter that sharp differences over the system of government had also been resolved.
The MDC had argued that Zimbabwe was a highly centralised state, and power should be devolved to lower levels of government.
Zanu-PF had now agreed to the formation of elected provincial legislatures, our correspondent said.
There would also be an executive in each province, headed by an elected chairman.
Agreement had also been reached to overhaul the legal system by creating a constitutional court as the highest of the land.
However, it remained unclear what agreement had been reached on the powers of the army, police and intelligence services - another major sticking point between the parties, our correspondent added.
The MDC had repeatedly accused the security forces of unleashing violence against its supporters during the 2008 election to help Mr Mugabe hold on to power.
Last week, the US-based campaign group Human Rights Watch (HRW) raised concerns about whether Zimbabwe would make key reforms before the October deadline for elections.
Zimbabwe had failed to reform key laws, like the public order, security and information acts, it said.
Vice-president's death
HRW said there had been no changes to the justice system "which remains extremely partisan towards Zanu-PF".
The security forces, election bodies and state broadcasters were also politically partisan, remaining loyal to Mr Mugabe and Zanu-PF, it added.
Meanwhile, Mr Mugabe has announced that Vice-President John Nkomo has died at the age of 78 after a long battle with cancer.
Zimbabwe had lost a "real revolutionary" who had fought British colonial rule, he said.
Mr Nkomo was one of two vice-presidents in Zimbabwe.
He was seen to be far less influential then the other vice-president, Joyce Mujuru.
Mr Nkomo was a member of the Zimbabwe African People's Union (Zapu), which formed a unity government with Zanu-PF in 1987 to end conflict in the western Matabeleland region.