Algeria siege: 'Victims' as army tries to free hostages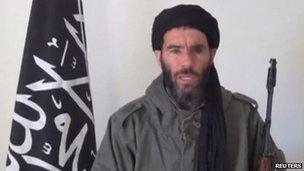 Algerian forces have moved against Islamic militants holding hostages at a gas facility in eastern Algeria, officials say.
Four foreigners were freed but a number of people were killed in the military operation, Algerian state news agency APS reported.
Algerian soldiers had been surrounding the facility near In Amenas that kidnappers occupied on Wednesday.
Reports quoting militants said at least 34 hostages and 14 kidnappers died.
Militants also told Mauritania's ANI news agency that seven foreign hostages were still alive after the Algerian military raid.
Nearly 600 Algerian workers and four foreign hostages - two from Scotland, one from France and one from Kenya - were freed during the operation, APS reported.
An Irishman who had been kidnapped was freed and has spoken to his family, Ireland's foreign ministry said.
APS quoted an unnamed source as saying that "about half" the foreign hostages had been liberated.
The Algerian military targeted two vehicles as they tried to escape from the site with an unknown number of people on board. Militants told local media that Algerian forces had opened fire from the air.
Algerian Communications Minister Mohamed Said Belaid said in recent hours that military action was continuing.
"A significant number of terrorists were neutralised during this operation," he said.
"Unfortunately, we deplore that there are a few deaths and a few wounded. We don't have a definitive figure, but as soon as we do we will make it public," he added.
Japan appealed to Algeria to stop the operation and not to endanger the lives of the hostages.
Algerian Prime Minister Abdelmalek Sellal called UK counterpart David Cameron to say the operation was under way at 11:30 GMT, Mr Cameron's spokesman said.
Mr Cameron made clear that he would have preferred to have been informed in advance, but the Algerians said they had to act "immediately", the spokesman added.
Later, Mr Cameron called it a "very dangerous, a very uncertain, a very fluid situation". He postponed a major speech on Europe scheduled for Friday, and said Britain should be prepared "for the possibility of further bad news".
The White House said it was "seeking clarity" on the operation.
Militants had earlier said they were holding 41 foreign nationals. They were believed to include British, Japanese, US and Norwegian citizens.
Some 30 Algerians and 15 foreigners were reported to have escaped from the gas facility before the Algerian military intervened.
Mali intervention 'justified'
Algerian Interior Minister Daho Ould Kablia said the kidnappers were Algerian and operating under orders from Mokhtar Belmokhtar, a senior commander of al-Qaeda in the Islamic Maghreb (AQIM) until late last year.
They occupied the gas plant after killing a Briton and an Algerian.
Mr Ould Kablia said the kidnappers had not entered Algeria from a neighbouring country.
One statement purported to be from the hostage-takers called for an end to the French military intervention against Islamist rebels in neighbouring Mali.
Algeria allowed France to use its airspace during its operation against Islamist militants who took control of northern Mali. The French operation began on Friday.
French officials said it was necessary to prevent Islamists from expanding their influence in the region.
French President Francois Hollande said on Thursday that events in Algeria provided "further evidence that my decision to intervene in Mali was justified".
The Tigantourine gas facility is about 40km (25 miles) south-west of In Amenas, which is close to the Libyan border and about 1,300km (800 miles) south-east of Algiers.
BP operates the gas field jointly with Algerian state oil company Sonatrach and Norwegian firm Statoil.
"We have been informed by the UK and Algerian governments that the Algerian army is attempting to take control of the In Amenas site," BP said in a statement.
"Sadly, there have been some reports of casualties but we are still lacking any confirmed or reliable information."