Kenya seizes smuggled ivory in Mombasa port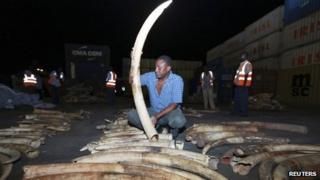 Kenyan officials have seized more than 600 ivory pieces worth an estimated $1m (£700,000) in the port of Mombasa.
The consignment, which included whole tusks, came from Tanzania and was destined for Indonesia, they said.
The seizure comes just over a week after an entire family of 11 elephants were gunned down in south-eastern Kenya - the single worst incident of ivory poaching recorded in the country.
Elephant poaching deaths have been on the rise because of demand from Asia.
'Big catch'
The ivory, weighing about two tonnes, had been labelled as decorating stones, the head of operations at Mombasa port said.
It was intercepted by the Kenya Revenue Authority (KRA) at the port after a tip-off, Kenya's Daily Nation newspaper reports.
"This is... the biggest ever single seizure of ivory at the port of Mombasa," Kiberenge Seroney, the port's police officer in charge of criminal investigations, told Reuters news agency.
Simon Gitau, from the Kenya Wildlife Service, agreed after counting the 638 ivory pieces that the haul was a "big catch".
"These are roughly 250 elephants that have been killed," the Daily Nation quotes him as saying.
After the international trade in ivory was banned in 1989, global demand dwindled and elephant populations began to recover.
But in recent years those advances have been reversed, with an increase in elephant poaching across the African continent.
Campaigners have pointed the finger of blame at China where ivory is often used to make ornaments.