Islamists pose threat to French interests in Africa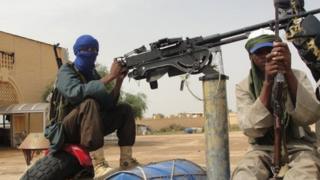 France's intervention in Mali is driven by the fear of a future threat. But will it increase the danger for Paris in the short term?
Islamists have already vowed revenge.
"France has attacked Islam. We will strike at the heart of France," said Abou Dardar, a leader of the Movement for Oneness and Jihad in West Africa (Mujao), an offshoot of al-Qaeda in the Islamic Maghreb (AQIM).
French President Francois Hollande has also said that "all necessary precautions" would be adopted.
The threat level has been raised a notch, leading to increased surveillance over public buildings, transport infrastructure as well as some embassies and religious institutions.
Building capacity
AQIM is the group that worries the authorities most, but the view amongst most experts is that it does not currently have the capacity and networks on the ground to carry out a serious attack within France in the short term.
However, analysts caution that the group may now increase its efforts to build that capacity.
The group has also put out appeals to like-minded supporters to act - essentially a call for anyone to do what they can independently.
The more immediate worry for France may be retaliation closer to Mali - there are 6,000 citizens in Mali itself but embassies, businesses and private citizens may all be at risk across North Africa.
France has updated its travel advice to citizens in Mali specifically but not ordered a general evacuation.
In the past, US officials have talked of AQIM paying "lip service" to exporting terrorism but said that they were not yet convinced the danger had become real beyond the region.
This intervention could have the effect of galvanising the desire of the groups to strike in Europe.
Influx of weapons
AQIM's membership in the Sahel region is reckoned to number several hundred but has been growing recently.
Those heading to Islamist-controlled areas of Mali include Algerians, Nigerians and West Africans.
There have also been reports of some jihadists coming from Europe - including France - although US intelligence officials late last year said they could not confirm their presence.
The threat posed by the groups was transformed by the influx of weapons from Libya trafficked over the border on the same routes used for drugs smuggling.
The greatest fear remains the acquisition of surface-to-air missiles.
Only about a quarter of the SA7s accounted for before the conflict in Libya could be accounted for afterwards, and officials believe it is "almost inevitable" that some are in Mali, although the extent to which they can be deployed is unclear.
Changing character
In the past experts argued that AQIM looked as much like a criminal network as a militant group.
However, with the shift of its centre of gravity from Algeria to northern Mali, it acquired a sanctuary which began to change its character. More charismatic leaders are also thought to have congregated there.
The fear was always that the longer the group became entrenched, the more likely it would be to try and reach into Europe to carry out attacks.
Last year, Boko Haram in Nigeria emerged as one of the most prolific militant groups, carrying out a large number of low-level attacks but also some more sophisticated attacks.
The concern is that these have come as a result of input from AQIM.
Intelligence officials say they have seen the transfer of funds and shared training, including in explosives and suicide bombers.
European intelligence officials say last year they saw evidence that some jihadists from Afghanistan, Somalia and Yemen were looking to move on because of pressure from drone strikes and other interventions, and that Mali (along with Syria) was a top destination.
Hostages
AQIM has focused on kidnap for ransom as a means of raising funds and those most vulnerable to retaliation are the eight French hostages currently being held by Islamist groups across the region by different groups.
Two men were abducted in Mali itself by AQIM in November 2011.
In January of that year an attempt to rescue two other hostages resulted in their deaths.
The failed French raid at the weekend to try and free a hostage in Somalia held by al-Shabab reflects the danger that those individuals may be in.
Al-Shabab has been weakened in recent months, but one concern expressed by US officials is that as the group loses ground in certain areas, it will turn further to terrorist tactics and work even harder to export violence beyond Kenya and Uganda, perhaps even to Europe.
French officials say there was no link between the raid to free the hostage in Mali, as the rescue mission had been in the planning for many weeks while in Mali events moved fast in recent days.
But the failure of that mission illustrates how hard it may be to resolve some of the hostage situations.
The French foreign minister has met the families of many of the hostages to keep them up-to-date.
Paris has clearly decided that the short-term risk of increased threat from intervening is outweighed by the importance of denying a militant group a long-term sanctuary.
No-one in Paris - or any other Western capital - wants parts of Mali to become like Afghanistan in the 1990s - a place where acts of terror further afield could be planned and where people would then ask why something was not done earlier.
The battle for Mali