Mali Islamists 'enter' Konna after clashes with army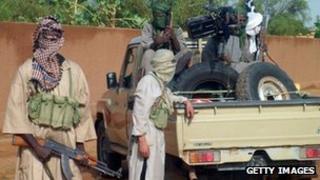 Militants Islamist in Mali say they have entered the key central town of Konna, advancing further into government-held territory.
This is the most serious fighting since Islamist groups captured the north from government forces in April 2012.
The army has not commented on the claim by the Ansar Dine group that its fighters are in Konna.
Earlier, it said it had advanced on Douentza, a central town held by another Islamist group.
A resident in Douentza said no fighting had so far taken place for control of the town, about 800km (500 miles) north-east of the capital, Bamako.
It was still in the hands of the Movement for Unity and Jihad in West Africa (Mujao), the resident said.
The UN has approved plans to send some 3,000 African troops to Mali to recapture the desert north but they are not expected to arrive until September 2013.
Some European leaders have voiced concerns that jihadists could use Mali's vast Islamist-controlled area, which is the size of France, to launch attacks on Europe.
'Vow to liberate'
Ansar Dine spokesman Sanda Abu Mohammed said their fighters had driven out government forces from Konna, about 700km (435 miles) north-east of Bamako.
"We are actually in Konna for the jihad [holy war]," he is quoted by AFP news agency as saying.
"We almost entirely control the city. Afterwards we are going to continue [southwards]."
Army spokesman Lt-Col Diarran Kone refused to comment on Ansar Dine's claim, AP news agency reports.
"I do not want to comment on the story much less our wounded military operations in the area," he is quoted as saying.
"But it is certain that we seek every opportunity to move northward and liberate the cities of Timbuktu , Kidal and Gao."
On Tuesday, African Union chairman Thomas Boni Yayi said Nato should send forces to Mali to fight the Islamists.
He said the Malian conflict was a global crisis which required Nato to intervene, in the way it had done in Afghanistan to fight the Taleban and al-Qaeda.
Nato troops should work alongside an African force in Mali, he said.
Ansar Dine and Mujao have controlled most of northern Mali since last April.
They formed an alliance with Tuareg rebels, over-running government forces in the northern regions of Timbuktu, Kidal and Gao.
But their alliance quickly collapsed, with the Islamists capturing the region's main urban centres and marginalising the Tuareg rebels.
The Islamists have been accused of war crimes and attempting to impose a strict version of Sharia, prompting fears the region could become a regional hub for al-Qaeda-linked militancy.
Islamist fighters in the historic city of Timbuktu have demolished several Sufi shrines and mosques - regarded as idolatrous by the hard-liners - raising international concern about the future of the Unesco world heritage site.
Burkina Faso is trying to mediate an end to the conflict.