Humanitarian crisis in Sudan south gets worse, says UN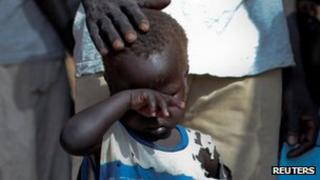 The UN has warned of a worsening humanitarian crisis in Sudan's South Kordofan and Blue Nile provinces, where the government is fighting rebels.
The UN said as many as 700,000 people were affected in the region, with many surviving on roots and leaves.
Senior UN humanitarian official John Ging said "a lack of political will" from both Khartoum and the rebels were to blame.
He said a year-long effort to get access to the area had failed.
'Turning up heat'
"The humanitarian status of these people is truly appalling," Mr Ging told reporters in New York, following a briefing on the issue at the UN Security Council.
"If we don't find a solution... then the inevitable consequence is more people will die, more needless humanitarian suffering will occur and more displacement into South Sudan and Ethiopia," he warned.
Mr Ging said humanitarian organisations were deeply frustrated as they were ready to deploy with large stocks of food and medicine.
He also appealed to the Security Council for help.
The US ambassador to the UN, Susan Rice, agreed that both warring parties were to blame, but said the government in Khartoum bore the greater responsibility.
She also said that Washington favoured "turning up the heat" on the on the parties, following last year's Council resolution which threatened sanctions.
However, some other Council members are less critical of Khartoum, noting its right to defend itself from an armed rebellion, the BBC's UN correspondent Barbara Plett in New York reports.
The government in Khartoum accuses South Sudan of backing the rebels - a claim denied by Juba.
Since South Sudan's independence, tension between the new neighbours has been strained, with rebellions breaking out on either side of the border and a dispute over oil which escalated to the brink of war last April.
However, in September the leaders of both nations signed a deal, mediated by the African Union, to resume oil sales and set up a demilitarised buffer zone.