Cameroon 'gay sex' men acquitted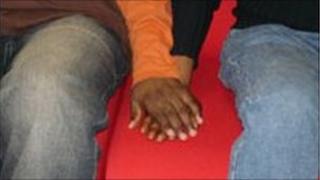 An appeals court in Cameroon has overturned the conviction of two men jailed in 2011 for homosexual acts, their lawyer has said.
Alice Nkom said she was pleased because the judge who convicted them had been influenced by "stereotypes".
He had stated "the way the men dressed... spoke and the fact that they drank Bailey's Irish Cream proved they were gay", Ms Nkom said.
Homosexual acts are illegal in the central African nation.
In November 2011, a court sentenced the two men to five years in prison after police arrested them for allegedly having oral sex in a car in the capital, Yaounde.
They denied the charge. On Monday the Court of Appeals ruled saying they were not guilty, Ms Nkom said.
'Celebrating'
She told the BBC's Focus on Africa programme the ruling was not surprising.
"They were doing nothing when they were arrested by police," Ms Nkom said.
"Just because they were wearing women's clothes and had make-up the police said this must be a network of homosexuals and put them in jail."
She said it was unclear whether the prosecution intended to challenge the verdict in the Supreme Court.
Nevertheless, she said she expected the two men to be freed on Tuesday.
International gay rights campaign group All Out welcomed the ruling.
"This case demonstrates that when courts rely on law and fairness instead of bias and stereotypes, justice is possible," said Andre Banks, the group's executive director.
"And while we celebrate.... we renew the call for President Paul Biya to release all other prisoners who have been prosecuted for allegedly being gay or lesbian under Cameroon's unfair anti-gay law."
Ms Nkom told the BBC that last month, the Court of Appeals upheld the sentencing to 36 months in prison of another Cameroonian, Roger Jean-Claude Mbede, under the anti-gay legislation.
She said he was sentenced simply for sending a "text to someone to say he loves this man" and she planned to challenge the ruling in the Supreme Court.
"There was no partner. You cannot condemn someone for homosexuality made by himself," Ms Nkom told the BBC.
Homosexual acts are illegal in many African countries - including Uganda, which is considering imposing harsher penalties on people convicted of the offence.