John Mahama: Ghana's NPP boycotts swearing in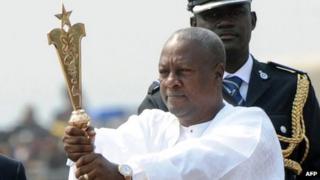 Ghana's main opposition party has boycotted the swearing-in ceremony of President John Mahama following last month's disputed elections.
The New Patriotic Party (NPP) said Mr Mahama won the election fraudulently.
Official results gave Mr Mahama 50.7% of the vote, enough to avoid a run-off against the NPP's Nana Akufo-Addo, who won 47.7%.
Ahead of his inauguration, Mr Mahama called for unity in Ghana - seen as one of Africa's most stable democracies.
Mr Mahama was Ghana's vice-president until the unexpected death of President John Atta Mills in July.
He has served since then as acting president.
'No betrayal'
In his speech, the president told Ghanaians: "I will not let you down," reports the Citi FM radio station.
"The promises that I have made are the promises I intend to keep," he said.
On Friday, Mr Mahama appealed to members of parliament to work together.
Thousands of Mr Mahama's supporters packed Independence Square in the capital, Accra, for the ceremony, reports the BBC's Sammy Darko from the scene.
The stage is beautifully designed in the shape of the black star of Ghana, he adds.
Mr Mahama was sworn in before several African heads of state, including South Africa's President Jacob Zuma and Nigeria's Goodluck Jonathan.
Former President John Kufuor attended the ceremony, in defiance of the wishes of his party.
Ghana's privately-owned Joy FM radio station reports that about 40 NPP supporters besieged the home of former President Kufuor to prevent him from attending the ceremony.
"Anybody who says that I have betrayed the NPP by attending President Mahama's inauguration is only following his emotions. Leading a nation is not easy so where I have reached, I am more of a statesman than mere party person," he said, Joy FM reports.
The party's MPs, however, did not attend the ceremony.
The NPP filed a petition over the election result at the Supreme Court in late December, saying it had found irregularities including unregistered voters casting ballots.
"We are challenging the legitimacy of that election and the winner of which is being sworn in," NPP spokesman Perry Okudzeto told AFP news agency.
"We don't see why we should be part of the swearing-in of an ill-elected president."
Mr Mahama's National Democratic Congress (NDC) said the elections were the most transparent the country had seen.
International election observers described the 7 December poll as free and fair.
Ghana's government says the presence of international leaders at the ceremony is an endorsement of the vote.
Mr Mahama won by just over 300,000 votes, obtaining 5,574,761 ballots compared to Mr Akufo-Addo's 5,248,898.
The NPP is disputing about 1,340,000 votes cast for Mr Mahama - enough to swing the outcome in favour of Mr Akufo-Addo.