France military says Mali town Konna 'not recaptured'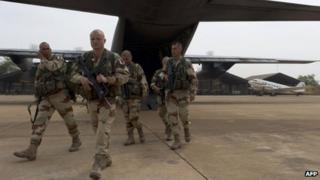 French military officials have denied an earlier claim by the Malian army that the central town of Konna has been recaptured by government forces.
France launched its military intervention last Friday after Islamists seized Konna and began advancing further south.
Another central town, Diabaly, was captured by rebels on Monday.
French and Malian troops were reportedly heading towards the town in preparation for a ground offensive.
In March and April last year, Islamist and secular Tuareg rebels overran the main population centres in northern Mali. Soon the Islamists, some with links to al-Qaeda, took control and imposed a hardline form of Sharia.
While a West African force was being planned with the aim of bringing the north back under the control of the Malian government, the rebels began moving further south.
It was the rebel capture of the strategically important town of Konna last Thursday that prompted France's military intervention.
French warplanes began air strikes against Islamist fighters the next day, and by Saturday a Malian military official said the army had brought Konna back under control, and 100 rebel fighters had been killed.
But French Defence Minister Jean-Yves Le Drian told reporters in Paris on Tuesday that the town was not in government hands.
The French aerial campaign had managed to block the rebels who had moved back to an area between Douentza and Gao.
But, he said, "at this time, the town of Konna has still not been recaptured by the Malian armed forces".
BBC Paris correspondent Hugh Schofield says the significance is unclear, but it suggests that the Malian army on the ground does not have the capacity to take advantage of the air support offered by the French.
Heritage site
A series of air attacks by French helicopters and fighter planes reportedly sent the rebels fleeing from two of the main northern towns, Gao and Timbuktu. But gunfire was heard outside Timbuktu, a Unesco world heritage site, on Tuesday.
And the Islamists have hit back, seizing the central town of Diabaly on Monday, 350km (220 miles) north-east of the capital, Bamako.
France says 1,700 of its soldiers are involved in the operation to help the Malian military fight back against the Islamists, with almost 800 on the ground in Mali itself.
Defence sources said their numbers were expected to increase to 2,500.
Air strikes were launched on targets in Diabaly on Monday night and news agencies reported that French soldiers were seen heading towards the town in armoured vehicles.
AFP quoted a local government official some distance south as saying that several hundred Malian and French troops were on their way.
RFI radio correspondent Serge Daniel, in Mali, said it was the first time since the start of the operation that French troops had been seen on the ground. "They are with the Malian army, 60km (37 miles) south of Diabaly."
Other reports said French armoured vehicles had been spotted driving north from the capital, Bamako.
A West African force of about 3,300 is also due to start arriving in Mali in the next few days, under a UN Security Council resolution.
The force will be made up of 900 Nigerian soldiers, the first of whom will leave for Bamako on Wednesday, as well as troops from Benin, Ghana, Niger, Senegal, Guinea, Burkina Faso and Togo.
French President Francois Hollande said on Tuesday that France had one main aim: "To ensure that when we leave... Mali is safe, has legitimate authorities, an electoral process and there are no more terrorists threatening its territory."
The flare-up in violence has prompted another 30,000 people to be displaced from their homes, according to the UN.
Until this month, some 144,500 Malian refugees had already been registered in neighbouring countries since April 2012.
France's intervention has prompted concerns for the welfare of eight French hostages kidnapped in the area over the past two years.
President Hollande said on Tuesday that "those who have taken them captive should reflect. There's still time to return them to their families".
The battle for Mali