Jordanian UN hostages freed in Darfur after four months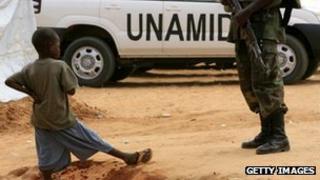 Two Jordanian UN peacekeepers have been released in Sudan's Darfur region after more than four months in captivity.
The men went missing in August during a supplies shopping trip to a market near Kabkabiya. It is still unclear who abducted them.
The joint UN-African Union mission said the hostages were on their way to the Sudanese capital Khartoum.
More than 16,000 Unamid troops are currently based in Darfur, tasked with protecting civilians since 2007.
The freed hostages are said to be in good health.
A Unamid spokesperson told AFP news agency that it had been the longest kidnapping in the history of the peacekeeping mission.
Kidnappings for ransom
In October, four peacekeepers were killed and eight wounded in an ambush.
Some 78 Unamid troops have been killed in Darfur since its mandate started five years ago.
Violence in Darfur has come down from its peak after civil war broke out in 2003 but there are still clashes between government forces, rebels and rival ethnic groups.
Kidnappings for ransom in Sudan's western region have also seen an increase in recent years.
In May, a British worker with the UN's World Food Programme was freed after having been held for more than two months.
In February, Darfur rebels released five Turkish nationals.