Africa's proverb of the day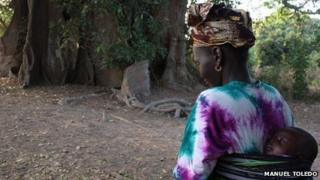 Proverbs are an integral part of African culture. Passed on from generation to generation for centuries, they are still in wide use today and are very much part of everyday speech.
Proverbs are used to illustrate ideas, reinforce arguments and deliver messages of inspiration, consolation, celebration and advice.
The great Nigerian author Chinua Achebe once wrote: "Proverbs are the palm oil with which words are eaten."
Use this form to send in your wise words. Under the form you can see some of the proverbs we have published recently.
Your proverbs from the last few months:
Monday 31 December
Bad dancing does not break an engagement. A Luyia / Gisu proverb sent by Sheila Oder, Kampala, Uganda
Friday 28 December
When the leopard has a toothache, then the goat can go and collect a debt. A Krio proverb from Sierra Leone sent by Sigismond Wilson, Oklahoma, United States
Thursday 27 December
When one finger touches palm oil, it soils the others. Sent by Samuel Amayo, Benin City, Nigeria
Wednesday 26 December
No matter how thorough a crow bathes, it is still black. Sent by Smith Moyo, Salima, Malawi
Tuesday 25 December
A man who does not know where the rain began to beat him cannot know where he dried his body. An Igbo proverb sent by Chrys Nnabuife, London, UK
Monday 24 December
Those who die as the result of their folly are many; those who die as the result of their wisdom are few. Sent by Amos Faleye, Ogun State, Nigeria
Friday 21 December
Despise not a snail for its slow and struggling movement; it has a destination and with time it shall arrive. Sent by Alfred Jah Johnson, Pennsylvania, United States
Thursday 20 December
One whose house is on fire does not hunt rats. An Igbo proverb sent by Azu Joyce Okwuchi, Isuochi, Abia, Nigeria
Wednesday 19 December
A child does not teach how to breastfeed. Sent by Moses Mayen Mayen, South Sudan
Tuesday 18 December
Work is the antidote for poverty. A Yoruba proverb sent by Collins Adelakun Tope, Osun State, Nigeria
Monday 17 December
Deep down the cat is a beast. Sent by Tadele Teferra, Addis Ababa, Ethiopia
Friday 14 December
One does not learn how to use the left hand in old age. An Igbo proverb sent by Igedu Stephen, Delta State, Nigeria
Thursday 13 December
A cooking pot for the chameleon is a cooking pot for the lizard. A Nigerian proverb sent by Michael Okorie, Tromso, Norway
Wednesday 12 December
In a court of fowls, the cockroach never wins a case. A proverb from Rwanda and Burundi sent by Imonitie C. Imoisili, Lagos, Nigeria
Tuesday 11 December
The rambling pole-cat leaves its house when there is banquet. A Kikuyu proverb sent by Dan Kamotho, Nairobi, Kenya
Monday 10 December
Better to stumble with the foot than with the tongue. A Swahili proverb sent by Meg Burley, London, UK
Friday 7 December
When the head is present, the knee should not pretend to wear the hat. A Baoule proverb from Ivory Coast, sent by Moysekou, Kuwait
Thursday 6 December
The hunter who is never satisfied with small game, may be obliged to carry home an elephant one day. Sent by Ayo Howard, in Uganda, and Uzodinma Collins, in Nigeria
Wednesday 5 December
The talk coming out of your mouth is not something you can carry on your head. A Pidgin proverb from Cameroon, sent by Leonora Orr, Hanalei, Hawaii, United States
Tuesday 4 December
Only a foolish child points to his father's house with the left hand. An Igbo proverb sent by Ndidi Nwaulu, Aba, Nigeria
Monday 3 December
No one tests the depth of the river with both feet. Sent by Nana Kwame, Ghana
Friday 30 November
When spider webs unite, they can tie up a lion. Sent by Fisum T, Ethiopia
Thursday 29 November
If you want to speak to God, tell it to the wind. Sent by Jason Mills Lamptey, in Accra, Ghana, and Johnny Asare, in Chigasaki, Japan
Wednesday 28 November
Do not depend on a dead man's shoes when you do not know their size. A Krio proverb sent by Joyce Sowa, in Freetown, Sierra Leone, and Christopher Okwedy, in Wilmington, United States
Tuesday 27 November
A cow dies with grass in its mouth. A Kenyan (Luo) proverb sent by Irene Agwa, Vienna, Austria
Monday 26 November
The chicken does not forget the person who plucked its tail feathers during the rainy season. An Igbo proverb sent by Nnabuife N Orji, Festac, Nigeria
Friday 23 November
When in the middle of a river, do not insult the crocodile. A Baoule proverb sent by Bosco Kouassi Attoungbre, in Ivory Coast, Tendai Magadu, in the UK, and Kris Kaswaya, in Zambia
Thursday 22 November
The death that kills a man begins as an appetite. Sent by Kevwe, Lagos, Nigeria
Wednesday 21 November
Marriage is not palm wine to be tasted. An Akan proverb sent by Jonathan Castel Djietror, Tema, Ghana
Tuesday 20 November
The dead man does not know the value of his coffin. Sent by Francis Kabika, Senanga, Zambia
Monday 19 November
A toad does not run in the daytime for nothing. An Igbo proverb sent by Ugwu Solomon Ikechukwu, Ankpan, Nigeria
Friday 16 November
To pick something up from under a bed, you must bend down. A Swahili proverb sent by Stephen Iworete, Chwele, Kenya
Thursday 15 November
Knowledge is like a baobab tree; no one person can embrace it. An Akan and Ewe proverb sent by Deletsu Dennis Selase, Accra, Ghana
Wednesday 14 November
He who fetches firewood infected with ants invites lizards to his house. Sent by Chrys Nnabuife, London, UK
Tuesday 13 November
He who has not travelled widely thinks his mother is the best cook. Sent by Terry Musonda, Lusaka, Zambia
Monday 12 November
A butterfly thinks itself a bird because it can fly. Sent by Esther Odame Yirenkyiwaa, Accra, Ghana
Friday 9 November
It takes the whole village to raise a child. Sent by Martin Manyiel Wugol, Rumbek, South Sudan, and Kisambira Kis Hasan, Uganda
Thursday 8 November
Everybody loves a fool but nobody wants him for a son. Sent by Peyechu Delphine Shiyghan, Bamenda, Cameroon
Wednesday 7 November
The child who knows how to wash his hands, eats with the elders. Sent by Abdulai Banguranin and Mohamed Ahmed Mansour, both in Sierra Leone, and Abdul Ghanee Saeed in Ghana
Tuesday 6 November
A tree which is shorter than an ant cannot shade you. A Kanuri proverb sent by Pax Nvani, Eket, Nigeria
Monday 5 November
A big goat does not sneeze without a reason. Sent by Upile Nytslayer Chikopa, Mzuzu, Malawi
Friday 2 November
Quarrels end but words once spoken never die. Sent by Malueth Jacob Gueet, Dar es Salaam, Tanzania
Thursday 1 November
The crab does not give birth to a bird. Sent by David Mario Toroo and Stanley Yaidoo, both from Ghana
Wednesday 31 October
The fall of a dead leaf is a warning to the green ones. Sent by Alex Wewele, Delta State, Nigeria
Tuesday 30 October
If a bird is dancing in the road, the thing that is drumming for him is in the bush. An Igbo proverb sent by Uchenna Osigwe, Canada
Monday 29 October
By trying often, the monkey learns to jump from the tree. Sent by Geoffrey Chibuzor Nwuruku, Havana, Cuba
Friday 26 October
A dead donkey does not fear the hyena. Sent by Girmaye Kebede, Addis Abeba, Ethiopia
Thursday 25 October
A straight tree never lasts in the forest. Sent by Adebayo Olabode, Akure, Nigeria
Wednesday 24 October
The pot of water falls from your head when you have just reached the door of your homestead. Sent by Nicholas P'Laker in Juba, South Sudan, and Justus Matende in Missouri, United States
Tuesday 23 October
The higher a baboon climbs a tree, the more undesirable are the parts exposed. Sent by Kankiriho Rogers, Bushenyi, Mbarara, Uganda
Monday 22 October
The man whose house is on fire does not go around chasing rats. Sent by Edith Ugwu, Abuja, Nigeria
Friday 19 October
Rain does not fall on one roof alone. Sent by Peyechu Delphine Shiyghan, in Bamenda, Cameroon, and Ezeh Raphael, in Abuja, Nigeria
Thursday 18 October
What made the vulture bald is enough to kill the crow. Sent by Francis Kennedy Ocloo and Kramxx Walker, both in Ghana
Wednesday 17 October
If you don't want a monkey's tail to touch you, don't go to a monkey dance. Sent by Amodoi Derrick, Kampala, Uganda
Tuesday 16 October
When an old woman falls down twice, people should check what is in her basket. Sent by Dunmoye Femi and Nnaemena James Chukwunweike, both from Nigeria
Monday 15 October
Be careful when you are sharing a calabash of porridge with a toothless man. Sent by Mayen Imen, Perth, Australia
Friday 12 October
Kola nuts last longer in the mouth of those who value them. Sent by Bonti Benjamin, in Ghana, and Okeke James in Nigeria
Thursday 11 October
When a cock invites a cockroach for a birthday party, he has prepared dinner for himself. Sent by Alfred Jah Johnson, Pennsylvania, United States
Wednesday 10 October
A cat in her house has the teeth of a lion. A Somali proverb sent by Fysal Mohamed
Tuesday 9 October
A wicked elder sows suffering for his children. A Yoruba proverb sent by Kunle Esho, London, UK
Monday 8 October
Ears that do not listen to advice accompany the head when it is chopped off. Sent by Michael Ebong in Lagos, Nigeria, and Chea Wesseh in Saclepea, Liberia
Friday 5 October
When you see an old man running in a thorn forest, if he is not running after something then something is running after him. A Yoruba proverb sent by Yomi, from Porto, Portugal
Thursday 4 October
All lizards lie flat on their stomach and it is difficult to determine which one has a stomach ache. A Yoruba proverb sent by Gardea Gad Peters, in Monrovia, Liberia, and Geoffrey Chibuzor Nwuruku, in Havana, Cuba
Wednesday 3 October
If you are bitten by a black thing, then you will even fear a piece of charcoal. A Chewa proverb sent by Nalideni Kautemba and Fraser Nyale, both from Malawi
Tuesday 2 October
One does not lay hands on a load one cannot lift. A Yoruba proverb sent by Ibhalu Obayendo, Lagos, Nigeria
Monday 1 October
The chick that gets closer to its mother gets the thigh of the grasshopper. An Akan proverb sent by Kofi Nak, Ghana