Platinum miner Lonmin CEO Ian Farmer stands down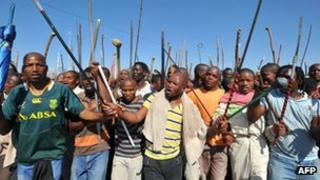 The head of the platinum mining firm Lonmin is stepping down four months after a strike at its South African Marikana mine left 44 people dead.
Ian Farmer has been off work since August when he was admitted to hospital with a serious illness.
Chief financial officer Simon Scott will continue as interim CEO until a successor is found, Lonmin has said.
The trouble at Marikana has increased pressure on the company, already hit by high costs and weak platinum prices.
The company, which is listed on both the Johannesburg and London Stock Exchanges, was forced to turn to investors last month to raise $817m (£507m) to avoid breaching lending terms, Reuters news agency reports.
On 16 August, 34 striking miners were shot by police, the most deadly police action since the end of apartheid in 1994.
Ten others, including two policemen, died during weeks of unrest at the mine.
Lonmin, the world's third largest platinum producer, said Mr Farmer was still being treated for a "serious illness" and had decided to permanently stand down.
"We will greatly miss Ian's ability, commitment and drive, which he has devoted to the company over a career spanning more than 26 years," Lonmin chairman Roger Phillimore said in a statement.
"He has been CEO for the last four years and the consistent improvement in Lonmin's operating performance over that period owes much to his leadership."
Mr Scott, who has been acting chief executive since the end of August, has requested that he should not be considered as a candidate for the role, Lonmin said.
A judicial commission of inquiry, set up by South African President Jacob Zuma, is currently looking into the Marikana unrest.
The pay dispute at Lonmin's Marikana mine was exacerbated by tensions between two rival trade unions.
The commission is to determine the roles played by the police, the management of Lonmin, the unions and the government.
In September, the striking miners, who were mostly rock-drill operators, agreed to return to work after a six-week stoppage, accepting a pay rise of up to 22%.
South Africa holds about 80% of the world's known platinum reserves and is the fourth biggest gold exporter.