Pirates raid 'Italian' ship off Nigeria and take crew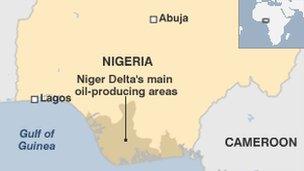 Pirates have kidnapped four sailors after attacking their vessel off Nigeria's coast, the International Maritime Bureau (IMB) has said.
The hostages were foreigners - three of them Italian, AP news agency reports.
Gunmen stormed the vessel off Nigeria's oil-producing Niger Delta region, before seizing the four and fleeing, the IMB said.
Kidnapping is a lucrative enterprise worth millions of dollars a year in Nigeria, Africa's main oil producer.
Most people in the Niger Delta are extremely poor.
Oil workers and other foreign nationals are often targeted because companies pay high ransom money to secure their employees' release, correspondents say.
The IMB said the latest attack happened about 40 nautical miles (28km) off Nigeria's Bayelsa state.
"Pirates armed with guns attacked, boarded an offshore supply vessel... and kidnapped four crew members," the AFP news agency quotes the IMB statement as saying.
The remaining crew sailed the vessel to safety, the IMB said.
It did not identify the shipper nor the sailors who were abducted.
However, AP reports that an Italian foreign ministry official, who spoke on condition of anonymity, said that three of the four sailors were Italians.
The vessel attacked was the Asso Ventuno, operated by Augusta Offshore SpA, a Naples-based shipping company in southern Italy, it reports.
Earlier this month, five Indian crew members were abducted after gunmen stormed an oil tanker in the Niger Delta.
Gunmen also kidnapped six employees of the South Korean firm Hyundai off the Nigeria coast. They were later freed.
The mother of Nigeria's Finance Minister Ngozi Okonjo-Iweala was also snatched from her home in the Delta state. She was freed after five days.
The minister said the kidnappers had demanded her resignation because of her campaign to curb corruption in the lucrative oil sector.
Related Internet Links
The BBC is not responsible for the content of external sites.