Nigerian suicide bombers target Kano mobile phone firms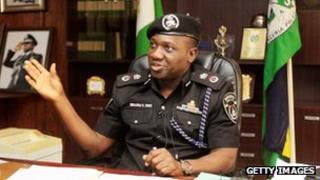 Suicide bombers in Nigeria have attacked the offices of two mobile phone companies in the northern city of Kano, police say.
A bomber rammed his vehicle into the Airtel office in Kano, setting the building on fire.
Witnesses say an attack was mounted minutes later on the MTN office in the city but the car failed to penetrate the perimeter fence.
No civilians were killed. No-one has said they were behind the attacks.
Kano police chief Ibrahim Idris told Reuters news agency the bombers had died in the attacks.
"The one who hit the Airtel office was shot by military men before the bomb exploded," he said. "At the MTN office the car rammed into the fence but no civilians were killed."
The Islamist militants, Boko Haram, have previously targeted mobile phone companies, claiming they help the security forces track down their members.
The US-based Human Rights Watch says at least 2,800 people have died in fighting in northern Nigeria since Boko Haram began its campaign for strict Islamic law in 2009.
Security has been increased at all churches in the country ahead of Christmas, when Boko Haram has previously targeted Christian places of worship.