African viewpoint: Mandela mania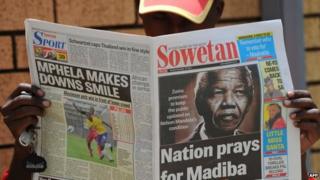 In our series of viewpoints from African journalists, film-maker and columnist Farai Sevenzo considers the world's obsession with Nelson Mandela's health.
The world is so full of news and if we were to crane our necks in the direction of every new massacre or every inexplicable act of human cruelty on the planet we would have lost our heads a long time ago.
The news space has been punctuated by such acts of sadness ranging from the murder of young children in the United States to yet another death alert over former President Nelson Mandela or to an unexpected car crash which threatens to rob a nation of not one but two legendary footballers in Zimbabwe.
And like everyone else I pay attention every time Mr Mandela's health makes the news.
I imagine too that this man, whose immense shadow continues to swallow the small men who came after him, must cringe at the thought that news desks around the world bring up his name in their editorial meetings every time he fails to pass water, every time he sleeps a little longer than is normal, every time he needs medical attention.
Such deeply intrusive scrutiny must be uncomfortable to the scrutinised and it is impossible really to explain why such fuss is made over a man whose winter has been outliving his summers for some time, and why the world and his wife would want to ogle the end of a 94-year-old life with such regular dedication.
Gilded cage
For as you read the next newspaper to mention Madiba's health it will occur to you that you may have once or twice called your village to find out how an old aunt is doing after another false alarm over funeral preparations and you would have been surprised to hear that yet again the funeral arrangements have been postponed.
Those closest to your perpetually dying aunt will tell you that in reality the old lady is getting tired of the fuss and of life's relentless grip, that she misses her friends and comrades and is saddened when her great-grandchildren jump the death queue and go before she does while she hangs around the departure lounge - still, what can you do?
But Nelson Mandela is Nelson Mandela and a life whose name is so publicly owned must live in its gilded cage and be ogled, paraded and brought out to meet the "stars" and the cream of global politics like a saintly relic.
And the preparations by every media outlet attest to the old leader's status.
Johannesburg is full of strange tales of entire office blocks being bought or rented so that network cameras may have the best views of the funeral procession, camera crews are said to have been scouting neighbouring houses as close to the great man's Houghton residence as possible and obituaries that have been several years in the making and filing are to be resurrected and given Shakespearean makeovers.
His final role, it seems, will be to provide newsrooms around the world with the kind of copy reserved for great statesmen and women and those taken away by violent assassinations.
'Rainbow republic' driverless?
It is a role you wouldn't wish on your elderly aunt.
Much of the media also seems to think that South Africa's first black African president did not leave office in 1999 and their thoughts carry the line "what will happen to South Africa when Mandela goes" as if the great man has been driving a vehicle which will suddenly become driverless on his departure.
And so it was that in the week of his illness, the African National Congress conference to select a leader to contest the 2014 poll became tied to the hip of the ailing Madiba.
The show, as they say, must go on, and the 18-year-old "rainbow republic" has been pushing on driven by Thabo Mbeki and now by Jacob Zuma.
Scour the opinions and you will hear how Mr Mandela's vision has been soured, how the incumbent has lost the gloss of the party of liberation with his proximity to corruption and his questionable marriage arrangements.
Go there and you will see a nation engulfed by its own transition to adulthood in the face of enormous historical and current obstacles, you will hear people complaining of the murders of white farmers, the prevalence of rape, the terrible pay for mineworkers, the illusive economic freedom for millions and therefore the deep divide between the rich and the poor which no politician has managed to bridge successfully.
These are the issues the South African politicians have been grappling with.
And every politician, be he 94 or 70, will tell you themselves that they are no saints.
If you would like to comment on Farai Sevenzo's latest column, please use the form below.