Military plane crashes in South Africa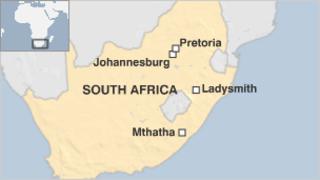 A military plane carrying 11 passengers has crashed in South Africa's mountainous east.
The plane, which had been travelling from Pretoria to Mthatha, went missing on Wednesday but the initial search was abandoned due to poor weather.
The wreckage was found in the Drakensberg Mountains, near Ladysmith, in KwaZulu-Natal province.
Officials have denied earlier reports that members of Nelson Mandela's medical team were on the flight.
Speaking to the BBC, South Africa's National Defence Force spokesperson Xolani Mabanga rejected unconfirmed media reports that the former president's doctors were on board.
Search for survivors
Brig Gen Mabanga said that the aircraft had taken off from Pretoria's Waterkloof Air Force Base on Wednesday night, according to AP. He said soldiers had been sent to the scene to look for survivors.
The remains of the aircraft were found some 210 miles (340km) south-east of the Waterkloof air base.
The wreckage of the Douglas DC-3 Dakota, a twin-propeller aircraft, is reported to be spread over a wide area near the Giant's Castle, a famous peak on a steep escarpment.
Mthatha's small airport in Eastern Cape province is situated some 17 miles (30km) from Mr Mandela's rural homestead of Qunu, where he has lived since retiring from public life.
The military are responsible for looking after the 94-year-old former president's health.
According to AP, another South African military flight crash-landed at Mthatha's airport in November and several people were injured. The military denied that those on board had anything to do with Mr Mandela's care.