Tunis Islamists 'attack unionists with knives'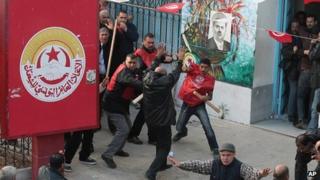 Tunisian pro-government supporters have clashed with unionists a week after protests over rising unemployment.
Islamists attacked members of the General Tunisian Workers' Union (UGTT) in the capital, Tunis, with knives and sticks, eyewitnesses told Reuters.
Last week, more than 200 strikers were wounded in violent clashes with police in the town of Siliana.
Tunisia was the birthplace of the Arab Spring, deposing its long-time president in January 2011.
The moderate Islamist party Ennahda was elected following the overthrow of President Zine el-Abidine Ben Ali.
Since the uprising, unemployment has gone up - and according to official figures stands at about 18%.
'You are thieves'
UGTT members were gathering for a march on Tuesday when they were attacked by a large crowd of Islamists who also threw stones at the union's office windows, Reuters reports.
The Islamists, thought to belong to the League for Protection of the Revolution, blamed union leaders for inciting anti-government unrest.
Carrying banners, the Islamists chanted, "UGTT, you are thieves, you want to destroy the country".
Police intervened to break up the clashes.
Last week, the UGTT called for general strikes over the lack of jobs.
Residents of Siliana, which is about 120km (75 miles) south of Tunis, took to the streets, angered that the mayor had failed to create more work opportunities.
Security forces used tear gas and rubber bullets to disperse protesters, with reports of people also being treated for gunshot wounds.
The BBC's Sihem Hassaini in Tunis said the unrest in Siliana was the latest in a series of protests by people disappointed by the lack of progress following the revolution.