Mali crisis: UN's Ban gives AU mission guarded support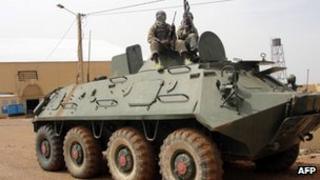 UN Secretary General Ban Ki-moon has recommended conditional backing for a one-year African Union mission against Islamist militants in Mali.
Mr Ban did not offer any financial support, and said African nations needed to answer basic questions about how the force would be run.
African leaders have been seeking UN backing for a mainly West African force that would support Mali's military.
The army lost control of much of northern Mali now held by Islamists.
In recommendations to the UN Security Council, Mr Ban said it could authorise African Union member states to establish the 3,300-strong mission, which would have the acronym Afisma, for an initial period of one year.
He said it should help Malian authorities "restore the unity and territorial integrity of Mali and reduce the threats posed by terrorist and affiliated groups and transnational organised crime".
'Focus on dialogue'
But he also warned against potential pitfalls, calling a military operation a "last resort".
"Fundamental questions on how the force would be led, sustained, trained, equipped and financed remain unanswered," Mr Ban said.
"I am profoundly aware that if a military intervention in the north is not well conceived and executed, it could worsen an already fragile humanitarian situation and also result in severe human rights abuses."
He said that first, "the focus must be on initiating a broad-based and inclusive political dialogue".
Mr Ban said funding for any military operations should come from "voluntary or bilateral contributions".
Islamists and Tuareg rebels captured large swathes of northern Mali after a coup in Bamako earlier this year.
Their alliance then collapsed, with the Islamists taking the region's main urban centres.
The Islamists have destroyed ancient shrines in Timbuktu and have imposed a strict version of Islamic law, sparking international outrage.
Regional leaders from the Economic Community of West African States (Ecowas) have agreed to contribute 3,300 troops to reclaim territory.