DR Congo conflict: UN aid agencies warn of crisis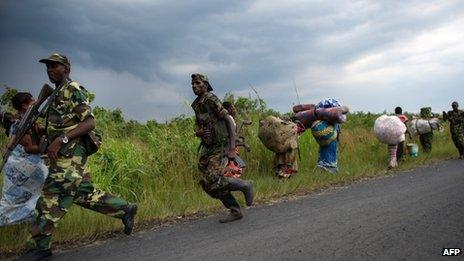 The UN has warned of a growing humanitarian crisis in the Democratic Republic of Congo, where rebels took the eastern city of Goma on Tuesday.
Aid officials said the fighting has made camps for people displaced by earlier conflicts inaccessible, with food and medicines running short.
Agencies say civilians also face killings, abductions and extortion at the hands of the M23 rebels.
Armed groups have battled over mineral-rich eastern DR Congo for two decades.
The M23 rebel group was formed eight months ago by soldiers who defected from the army and is widely believed to be backed by Rwanda and Uganda.
Their exact aims are unclear but they have also advanced beyond Goma, the biggest city in eastern DR Congo, taking the town of Sake despite a loyalist fightback.
They have threatened to march on the capital, Kinshasa, if President Joseph Kabila does not open negotiations with them.
Tens of thousands of civilians have fled as the rebel forces have advanced, scattering from villages and refugee camps.
The United Nations' children's fund Unicef says hundreds of children have been separated from their parents. It warns that many of them risk being recruited by armed groups.
United Nations refugee agency spokesman Adrian Edwards said: "UNHCR is extremely concerned about the situation of displaced people in North Kivu in particular, especially children and other vulnerable groups.
"Normally we work in 31 displaced camps in North Kivu, hosting just over a 108,000 people. The fighting has meant that we and our partners have not been able to access most of these areas, only Mugunga 3, just outside Goma can currently be visited," he told journalists in Geneva.
Rostin Manketa of the Congolese organisation Voice of the Voiceless told the BBC's Focus on Africa programme that there is evidence of increasing human rights violations as the rebels advance.
"We have all heard of daily rapes of women and girls, killings of people, massacres, even burning of villages, forced displacement of people who could not send their children to school. This is very, very worrying for us," he said.
Mr Manketa called on the international community to force M23 to withdraw from all territories under their control.
On Thursday, the head of DR Congo's army was suspended pending an investigation into claims that he sold weapons to rebel groups.
A UN report accused Gen Gabriel Amisi of running a network supplying arms to poachers and rebel groups including the notorious Mai Mai Raia Mutomboki.
Uganda is due to host a summit over the weekend with the presidents of Rwanda and DR Congo among other regional countries. Some M23 leaders have also reportedly flown to Kampala.
So far, the rebels have rejected a call by regional leaders to withdraw from the main eastern city of Goma, capital of North Kivu province.
About 500,000 people have been displaced by the rebellion since April.
A UN report has accused Rwanda and Uganda of backing the M23, saying the chain of command culminates with Rwandan Defence Minister James Kabarebe.
Both countries strongly deny the accusations.
The M23's gains have raised fears of renewed war in DR Congo, where some five million people died in a conflict from 1997-2003.
The UN Security Council has adopted a resolution condemning the rebel seizure of Goma and calling for sanctions against M23 leaders.
The group was formed in April after a mutiny in the army. The rebels said they were not given army posts promised in a 2009 deal to end a previous uprising.
Related Internet Links
The BBC is not responsible for the content of external sites.