Sierra Leone election: Votes seized over fraud claims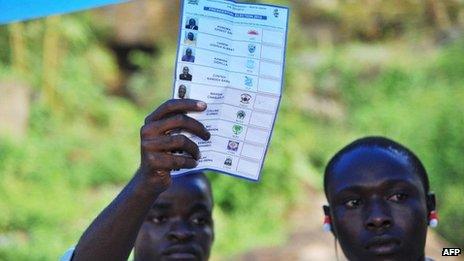 About 10% of votes from Sierra Leone's tightly contested elections have been set aside because of alleged fraud, the election head has said.
Election commission chief Christiana Thorpe said the votes might have to be recounted following opposition complaints of ballot-stuffing.
President Ernest Bai Koroma was challenged by eight candidates in Saturday's peaceful election.
It was the third poll since a civil war which killed more than 50,000 people.
Mr Koroma's main challenger was ex-military ruler Julius Maada Bio.
Ten parties contested parliamentary elections on the same day, including Mr Koroma's All People's Congress (APC) party and Mr Bio's Sierra Leone People's Party (SLPP).
The BBC's Umaru Fofana in the capital, Freetown, says final results had been expected on Thursday and there is growing public anxiety about the delay.
The government's Office of National Security, along with the UK and US embassies, have appealed to people to stay calm while the election commission deals with the complaints.
"Out of the 9,493 polling stations, 90% of polling station results have been processed," Ms Thorpe said in a statement.
"The remaining 10% of... results have been quarantined and may require opening of [the] affected ballot boxes and a recount of the ballot papers."
Our correspondent says it is unclear whether the allegations of ballot-stuffing, where one person votes more than once, are in relation to presidential or parliamentary elections.
On Monday, the SLPP said the election had been marred by a "catalogue of malpractices", which it wanted the election commission to address.
"The SLPP is dismayed at the extent of the irregularities which have come to light," said party Secretary-General SulaimanTejan-Sie.
In terms of the law, official results have to be declared within 10 days of the election.
If no presidential candidate wins 55% percent of the vote, a run-off will take place.
Since the end of the 1991-2002 war, Sierra Leone has made progress towards reconciliation.
However, it remains one of the poorest countries in Africa with a large number of the population of about six million living on less than $1.25 (80p) a day.