Is DR Congo's cycle of chaos unbreakable?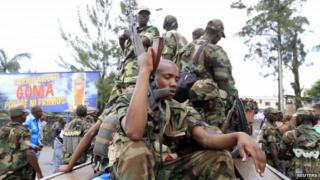 It is conflict with genocide in its rear-view mirror; a conflict of bewildering complexity, deeply rooted in issues of identity and land, aggressively manipulated by external forces, and haunted by a lingering sense that eastern Democratic Republic of Congo's status quo - violent, unpredictable, and locked in a cynical and seemingly unbreakable cycle of chaos - is much more convenient to those with armies to flex than some sullen, restrictive peace.
Is it too much to suggest that the war-infested hills of eastern DR Congo have, after almost two decades of unbroken misery, become Africa's version of the Arab-Israeli crisis?
The comparison inevitably buckles under closer scrutiny - Rwanda and Israel are hardly twins for starters - but the larger point is that, like the Middle East, the spectacular green hills and volcanoes of eastern DR Congo have become trapped in a spiral of instability that harms the entire region.
So far, nobody has come out of the latest twist in this drama - the unexpected fall of Goma to the M23 rebels - with a shred of credibility.
The rebels have again shown staggering cynicism in launching an offensive and displacing tens of thousands of civilians simply to improve their negotiating position.
Tiny Rwanda - repeatedly identified by UN experts as the puppet-master behind this and previous rebellions - can surely no longer hide behind its familiar denials of involvement.
But what price will it pay?
Kigali must be gambling that the economic and security benefits of its latest intervention/annexation will outweigh the damage of international condemnation.
History suggests it may be right.
The international community has taken its eye off eastern DR Congo for the past six years or so.
The giant UN peacekeeping force has been meandering, rudderless, in a political vacuum.
Having quietly given Rwanda the benefit of the doubt, will the US, the UK and the EU finally use their collective muscle - and aid budgets - to force Kigali, and to a marginally lesser extent, Kampala, to stop their military adventures in DR Congo?
Last but by no means least, there is President Kabila and the DR Congo government. Some argue that the 2009 deal with former rebels that bought - at a high price - a measure of peace to the Kivus was destined to fail. But surely it could have been better managed.
The more substantial point is that as long the rule of law remains absent in eastern DR Congo, the vacuum is going to be filled by the likes of M23 and Rwanda.
Last but by no means least, there is President Joseph Kabila and the government of DR Congo.
What prompted him to undermine the fragile peace deal of 2009 and start reshuffling former rebel leaders who had been brought into the Congolese army, triggering the current crisis?
As long as the rule of law remains absent in eastern DR Congo, the vacuum is going to be filled by the likes of M23 and Rwanda.
Humiliated generals
As for what happens next… The rebels' talk of a march on Kinshasa seems far-fetched.
A coup there is only marginally more likely.
Unless serious negotiations begin with M23, there is a danger that the rebellion will move south to Bukavu, with more deaths and many more civilians inevitably displaced in the name of improving a bargaining position.
But to take Bukavu, Rwanda would have to cast off all pretence that its military is not running the show.
Perhaps the most immediate concern is the possibility that the DR Congo's humiliated army generals will try to organise a hasty, doomed counter-offensive against the M23.
Beyond that, it will probably be business as usual.
Corrupt soldiers and politicians will continue to plunder the region.
The outside world will try to nudge things back towards negotiations and reconciliation - but not hard enough.
And the civilians of eastern DR Congo will continue to wonder just what they have done to deserve such poor leadership.