French citizen kidnapped in Mali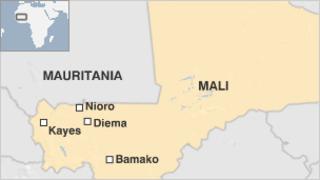 A French citizen has been kidnapped in south-west Mali, French President Francois Hollande has said.
Armed men reportedly took the 61-year-old man hostage on Tuesday evening near the border with Mauritania.
The area is outside the northern part of Mali which Islamists took control of earlier this year.
Seven French citizens are now being held in the region. The other six are all believed to be captives of al-Qaeda in the Islamic Maghreb.
"We will do everything we can to find our citizen," Mr Hollande said.
Three other European hostages and a number of Africans are also being held.
There were conflicting reports about where the latest kidnapping took place.
French Foreign Minister Laurent Fabius said it took place in Nioro, but Malian officials said it took place in Diema, closer to Bamako.
Mauritanian state media said it happened near the town of Kayes.
A Malian police official told the Associated Press news agency that the man had been kidnapped when he stopped at a cafe.
France has been at the forefront of international efforts to push for intervention in the north of Mali, to oust Islamists who seized control following a coup in the capital, Bamako.