Libya: Benghazi police chief assassinated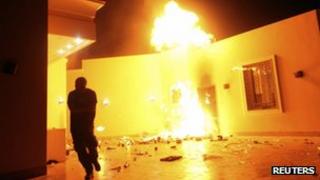 The police chief of the eastern Libyan city of Benghazi has been assassinated overnight, officials have said.
Farraj al-Dursi was targeted outside his home in a drive-by shooting.
Col Dursi was appointed shortly after an attack on the US consulate in the September in which the US ambassador and three other Americans died.
More than a dozen security officers have been assassinated this year in Benghazi, where the uprising against the late Muammar Gaddafi's rule began.
The BBC's Rana Jawad in the capital, Tripoli, says most are believed to have been targeted because of their ties to the previous government.
Before last year's revolution that toppled and killed Gaddafi, Col Dursi was known to have been in charge of an official unit combating drugs, she says.
"Three men opened fire, killed him and then fled the scene," AP news agency quotes Omar al-Khadrawi, Libya's Deputy Interior Minister, as saying.
He was pronounced dead in hospital, officials have said.
With the widespread availability of weapons and rogue militia groups who answer to no-one, security across the country remains a leading challenge for Libya's new authorities, our correspondent says.
The country's newly elected cabinet came to power last week.