Mali Islamists claim Menaka victory against rebels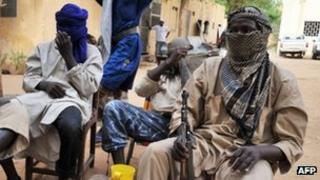 Militant Islamists in northern Mali say they have driven Tuareg-led rebels out of the desert town of Menaka.
But the rebels denied the claim, insisting that fighting in the area was still going on.
Regional leaders from the Economic Community of West African States (Ecowas) agreed last week to send 3,000 troops to reclaim northern Mali.
EU foreign ministers decided on Monday to send 250 military trainers to help build Mali's armed forces.
The EU is increasingly concerned that Mali could turn into a launchpad for Islamist militant attacks in the region, however Brussels has ruled out deploying the trainers in a combat role.
The UN Security Council is due to discuss the Ecowas plan in the next few weeks.
Counter claims
The Islamists from the Movement for Unity and Jihad in West Africa (Mujao) said on Monday that they had captured Menaka, close to the Niger border, in clashes that left many enemy fighters dead or wounded.
They said that members from the al-Qaeda in the Islamic Maghreb (Aqim) had fought alongside them.
But a spokesman for ethnic Tuareg group - known as the National Movement for the Liberation of Azawad (MNLA) - said the fighting was not yet over.
"We have not given up on Menaka," he was quoted as saying by the AFP news agency.
The two groups - who once formed an alliance against the government - also clashed in the region last week.
The Islamists and rebels captured northern Mali earlier this year following a joint offensive against government forces.
However, their alliance has since collapsed, with the Islamists taking the region's main urban centres from the MNLA, including the historic city of Timbuktu.
The Islamists have destroyed ancient shrines in Timbuktu and have imposed a strict version of Islamic law, sparking international outrage.