Nigeria's Boko Haram battle: Army rejects 'killing' video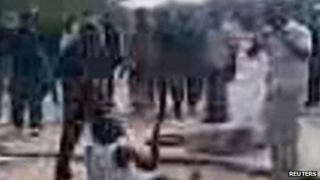 Nigeria's military has dismissed as fake a video said to show a soldier shooting dead a captive at close range in the northern city of Maiduguri.
A soldier who said he filmed the killing two weeks ago passed the recording to the Reuters news agency.
The military spokesman dismissed the footage without seeing it first.
Nigeria's security forces have repeatedly been accused of summary executions while fighting the militant Islamist group, Boko Haram.
The BBC has not been able to verify the video's authenticity.
BBC Nigeria correspondent Will Ross says the video shows a man being pushed to the ground by a soldier, kicked in the head and then shot dead.
Next to him are at least four corpses, apparently of people who were also killed by soldiers.
An army spokesman said he believed the grainy video had been staged and it was impossible for Nigerians soldiers to carry out such killings.
Earlier this month, rights group Amnesty International accused Nigeria's security forces of carrying out widespread abuses in their campaign against Boko Haram, including extrajudicial killings, enforced disappearances and torture.
Chief of defence staff Admiral Ola Ibrahim described Amnesty's report as highly subjective but said the accusations were being investigated.
"We have rules of engagement. A few of our men who have violated some of these rules are on trial," he told the BBC last week.
"The information technology and present-day capacity to manipulate even pictures and use it to your advantage is part of the kind of warfare that we are acutely aware of."
Boko Haram is campaigning to impose Islamic law across Nigeria.
It has carried out a wave of bombings and assassinations in northern and central Nigeria since 2009.
Maiduguri is one of the group's strongholds.
Clarification, 20 November 2012: The Reuters news agency has now withdrawn its story about the video, saying questions have been raised about its date and location.