DR Congo: Fighting erupts near Goma city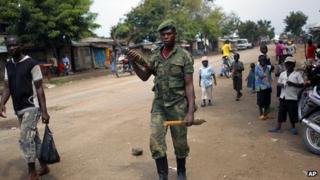 Fresh fighting broke out in eastern Democratic Republic Congo between UN-backed government troops and M23 rebels, forcing people to flee.
A BBC reporter at the scene said there was heavy gunfire and shelling north of the regional capital, Goma.
Nearly 500,000 people have been displaced since April when the rebels mutinied from the army.
The UN accuses Rwanda and Uganda of backing the rebels - allegations they both deny.
'Preparing for battle'
The BBC's Gabriel Gatehouse says the fighting - around the village of Kibumba about 30km (19 miles) north of Goma - is the most serious since July.
The government sent reinforcements, including helicopter gunships, to the area and a column of UN peacekeeers could also be seen, he says.
By the afternoon, there was a lull in the fighting.
DR Congo's army spokesperson in Goma, Olivier Hamuli, said 44 rebels were killed - and one high ranked officer from the army also died.
Both sides blamed the other for starting the fighting, which began early on Thursday morning.
Our correspondent says when he was in rebel territory on Wednesday, he saw the M23 - also known as the Congolese Revolutionary Army - redeploying their forces and preparing for a fight.
People have been fleeing southwards towards the government-controlled areas, carrying their belongings on their heads, our reporter says.
Some have been going towards a large refugee camp at Kibai on the northern outskirts of Goma, he says.
A UN spokesman in DR Congo, Lt Col Prosper Basse, said there had also been fighting about 90km north of Goma, with government forces capturing the town of Mabenga and advancing towards the key rebel-held town of Kiwanja.
On Tuesday, Uganda closed the Bunagana border crossing into DR Congo.
This followed a request from the DR Congo government, which said M23 was illegally raising money from people travelling between the two countries to finance its operations.
Last month, a UN panel of experts said Rwanda and Uganda were supplying M23 with weapons in what is seen as an on-going battle for control of the region, which is rich in minerals.
The UN and US imposed a travel ban and asset freeze earlier this week on the group's leader, Sultani Makenga.
The UN has a large force in DR Congo to help the government establish its authority in the lawless east.