Mozambique reward continues for South African pilots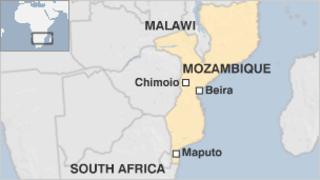 The head of a team looking for two South African pilots missing in Mozambique has said the air search will be suspended on Friday.
Richard Maier, however, said the $5,000 (£3,000) reward would remain on offer.
Relatives of the men - missing for more than two weeks - say the search will continue and a local team will follow up leads on the ground.
Bryan Simms, 60, and his son Rob, 22, went missing on 27 October as they flew home from Malawi.
They last made contact when their plane was flying near the Mozambican port of Beira, when Mr Simms said one of his engines was having trouble, South African media say.
The authorities in Mozambique have called off the search but volunteers have been combing the area to try and find the plane's wreckage, on foot and on motorbike, as well as by plane.
Mr Maier told the BBC that the search had been hampered because the Mozambican authorities would only let one of their five planes fly.
"The local authorities are worried about security because of instability in the area and have grounded [four of] our aircraft," he told the BBC.
The 11-member team have placed adverts in local newspapers and radio stations.
Mr Maier said the permit for the one plane that was allowed to fly would expire on Friday, which was why he was returning to South Africa.
"After that, we will rely on information from local contacts we've made. The reward will remain on offer until we get valid information," he said.
Christine Pecorella Simms, who is married to Rob Simms' brother, told the BBC once the volunteers returned to South Africa the data they had collected would be analysed to decide on how the search would proceed, especially the operation on the ground.
Members of South Africa's aviation community have spent more than 200,000 rand ($23,000; £14,000) from their own pockets to fund the search, with private donors also helping with costs.