West Africa bloc Ecowas agrees to deploy troops to Mali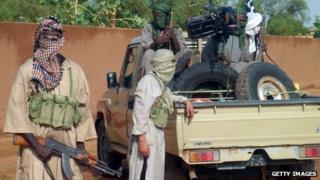 West African regional leaders have agreed to deploy 3,300 soldiers to Mali to retake the north from Islamist extremists.
At a summit of Ecowas, the group's chairman said it was ready to use force to "dismantle terrorist and transnational criminal networks".
The soldiers would be provided mainly by Nigeria, Niger and Burkina Faso.
Islamist groups and Tuareg rebels took control of the north after Mali's president was overthrown in March.
Ivory Coast President Alassane Outtara told reporters in the Nigerian capital, Abuja, that the soldiers could be deployed as soon as the UN approved the military plan.
He said he hoped the Security Council would approve the plan by late November or early December.
'Threat to security'
According to a Malian army source quoted by Reuters, the plan covers a six-month period, with a preparatory phase for training and the establishment of bases in Mali's south, followed by combat operations in the north.
The UN had given African leaders 45 days from 12 October to draw up a plan for military intervention to retake the north.
In a statement, the grouping of West African states said that while dialogue remained the preferred option, force might be needed to break up the networks controlling Mali which "pose a threat to international peace and security".
Foreign powers are divided on the best approach to the crisis in Mali.
On Sunday, French Defence Minister Jean-Yves Le Drian warned that if nothing was done to tackle the situation in Mali it would make the area a "terrorist sanctuary".
"In Mali, it is our own security that is at stake: the security of France, the security of Europe, because if we don't move a terrorist entity will take shape which could hit this or another country, including France, and including Europe," he said in interviews published in French media.
France has said it will offer support but not troops for intervention in its former colony.
But a top advisor to Algeria's president said on Saturday that an international military intervention in the country would be useless.
"The question in Mali is an internal matter and there is no need to further internationalise it," terrorism and security advisor Kamal Rezzag Bara said, according to the Associated Press.
The UN has warned that the Islamist militias are imposing a harsh version of Sharia law on the areas they controlled and that forced marriage, forced prostitution, and rape are becoming widespread.