African viewpoint: Choosing friends and leaders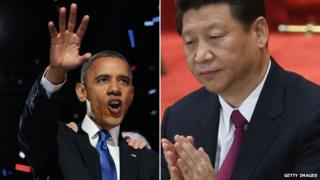 In our series of viewpoints from African journalists, London-based Ugandan writer Joel Kibazo considers how the leadership of the big superpowers affects the continent.
Sometimes it is so difficult to know which way to turn.
I was among the millions that abandoned sleep last Tuesday to watch the spectacle that is the US presidential election draw to a close.
This after all is the most powerful nation on earth and what happens in the United States affects every soul on the planet. How could I possibly go to sleep without knowing who was going to lead the world?
And so I struggled on till dawn when Barack Obama made his acceptance speech.
But the general election in the US was not the only leadership issue on the international agenda.
Within the next few days, China, now the world's second-largest economy and one of Africa's largest investors, will present its new leadership as a once-in-a-decade form of musical chairs takes place without so much as a single campaign.
Or at least if there is one, it is not one that the world is invited to watch.
The US leadership decision is as open as the Chinese one is closed.
So, two giants and two very different political systems, yet both with economies that many of us Africans can only envy.
China's increasing economic presence on the African continent has triggered many a discussion on which of the two systems Africa should try to emulate as it grapples with the difficulties of delivering economic growth and development to its people.
In other words which of the two paths is better for Africa, a debate that is not too different from the ones our parents were having in the 1970s and 1980s, at the height of the Cold War, between the left and right of the political spectrum.
'Hard work and time'
Yet for all the discussion, I think that debate is greatly misplaced.
What we should be asking is: "Where does Africa's interest lie?" and then actively go shopping for what we can get from each of these two powers.
On an individual level, that is what many of us do in life, so why are we not able to ensure that our institutions, governments and international bodies that look out for our interests do the same?
As I thought about the issue of the two giants and Africa, I was reminded of a conversation I had on a long train ride with a senior Chinese official a couple of years ago.
He had lived in several African countries so he knew the territory well.
Among the many things he said on our long journey is that Africa as a continent must decide what its key interests were and then systematically work out how to get those things.
It takes hard work and time, but that is what Africa needed to do, he said.
Many of us celebrated four years ago when Mr Obama was elected as the first African-American US president.
But beyond the visit to Ghana in 2009 Africa has not featured much on his agenda.
Few even noticed when in July the US launched a new Africa policy to improve democracy, economic growth, security and trade.
So, now that he has won a second term, I wonder how much lobbying our governments, not to mention institutions such as the African Union, will be doing to ensure we get a larger slice of that big American pie and have more of our issues addressed by the first president with whom we are connected by linage.
Will an Obama now free of re-election worries decide it is time for the US to make a bigger play for Africa and if he does, will we be ready with our shopping list?
In the coming days Xi Jinping is expected to become the leader of the Communist Party and president of China for the next 10 years.
But how much time have our representatives invested in not only learning about his priorities and those of the new leadership, but also trying to ensure Africa remains on the agenda for China?
After all, with the Chinese economy slowing, demand for natural resources from Africa is expected to fall significantly.
What then for us?
We need to invest resources in ensuring that at all times our interests as countries and as a continent will be on the agenda of all those that have an impact on us.
Only then, if we must make a choice, can we decide which way to turn.
If you would like to comment on Joel Kibazo's column, please do so below.